You don't need to buy all your gear before the orientation session, in fact is probably wiser to wait if you want to save some money. Our partners offer a very good discount on new items at the orientation, and you will still have some time try the stuff on before your first on ice session.
Price range for a new set of equipment is anywhere from $300 to over $1000 depending on the models of the hockey equipment selected. Most hockey stores carry a great variety of  gear at all price points, and will be able to meet all of your equipment needs.
You can easily get used equipment as well, but we do recommend certain items to be bought new. See below.
Ice Hockey Helmet

Lets talk about the ice hockey helmet. You should probably by this item new. Ice Hockey helmets are CSA approved but they do expire after a while, and lets face it, the head is the most important part of your body. You don't want to go cheap here. A used helmet past due won't help you much if you bang your head on the ice, and someone else wore it before you, sweated in it. You get the picture.
Helmets usually come without any facial protection, but you can get a cage/helmet combo all in one. We strongly recommend that you wear full facial protection. Teeth are expensive, eyes are irreplaceable.
As a beginner ice hockey player you don't get any special advantage of having zero facial protection. So go with a full cage or with a full visor. While we strongly recommend facial protection, it is not mandatory in the program or the league later.
Shoulder Pads

Shoulder pads are also strongly recommended for beginner players. As you learn to skate and play the sport you will be falling on the ice. You want to have some upper body protection. As you become better and more comfortable with skating, years down the road you can ditch this item.
The other reason why you may want to wear shoulder pads or shouldies as we call them is because they provide protection from pucks. It is not fun getting winded. Should you spend an arm an a leg on these?
Probably not. We are not playing contact so any reasonably priced new or used pair should do the trick. Shoulder pads are not mandatory in later league play after you successfully complete the program.
You should also know that hockey gear manufacturers do make shoulder pads that fit the female anatomy better. Any self respecting hockey store will carry shoulder-pads designed for women. Unfortunately this was not always the case, and it is probably harder to find this item used.
Elbow Pads


You will definitely want to buy these. When falling on the ice the first point of contact usually is either your knee or your elbow.
The program does teach you how to fall properly, but it definitely helps to have good elbow pads on. These should fit snugly around your arms and should not slide easily.
Sometimes it is a good idea to use sock tape to make sure elbow pads stay on all the way down before contact is made with the hard ice surface. Can you buy these used? Absolutely. Just make sure they fit properly and have padding left.
For proper fit, elbow pads should be covering the space between the wrist and that part of the arm not covered by the shoulder pads.
Ice Hockey Gloves

Ah, hockey gloves, also known as mitts in more colloquial circles. These need to be big enough but not so big that you can't grab and manipulate your stick with them.
There are two main things to look out for in gloves, do they offer enough protection on the outside, and are they durable enough on the palm. (fit goes without saying of course)
You will get hit on the hands, by accident or on purpose, either way the padding on the outside needs to be pretty rigid and should not go soft over time. The glove should maintain it's shape and be comfortable.
If there is an item you want to splurge a little on, you could do it here. "Soft mitts" will go a long way when it is time to make that sick deke on the goalie.
The other things you got to look at is how durable the material is on the palm of your hand. When playing ice hockey, you will hold your stick in one hand more often than not, so there is a lot of wear and tear on the inside of the glove that goes on the top hand.
This will be the first place you will get a hole in your hockey glove after a while. Luckily gloves can be re-palmed for way less than buying a new one. So if you invest in a good glove, and your palms go, you could just repair them.
As far as fit goes, the glove should cover between one and two inches of your wrist. You should not have too much space in your fingers, and when bending the wrist the glove should not feel too stiff.
Gone are the days where you had to break the gloves in before you can use them properly. Your mitts can be soft at game one!
Should you buy this item new? The jury is split on this one. On the one hand if you can find a decent used glove it would be way cheaper. On the other hand consider the smell factor.
Gloves are usually the stinkiest part of your gear, hands sweat a lot, and do you want someone else's sweaty mitts on your paws? Sure you can disinfect, wash and otherwise try to clean these gloves, but is all that worth your time? You may even need to re-palm them if the material is too brittle. So in the end after driving around, spending money on cleaning and re-palming maybe you were better off buying a new pair?
Ice Hockey Pants
  
Jock/Jill

Definitely by this new, for obvious reasons ;)!
Shin Pads

Ice Hockey Socks

Ice Skates

Ice Hockey Stick

Hockey Bag

Mouth Guard

It is optional, but is highly recommended. Although if you are wearing a cage, it may not be necessary since you have protection around your mouth already. If you have a visor, definitely a good idea. Buy new for obvious reasons.
Stick & Sock Tape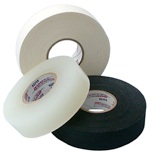 There are two types of tape generally speaking. Sock tape and stick tape. Sock tape is used to tape socks to your shin guards/pads so they don't twist around when you are skating or falling. Now days socks have evolved to be tight so you may not want to use sock tape. Stick tape is used to tape the handle of the stick and the blade. Taping the handle saves your gloves, use white tape there. Taping the blade creates more friction for passing and shooting and protects the blade from wear and tear. You can use white or black tape there. More on this later.