Learning To Play Hockey - Your Turn
Get on the ice, get in the game!
Why are you here? We think it is because you are finally ready to start playing the game, make new friends and get a little bit of exercise (well may quite a bit of exercise).
In other words, you want in on hockey!
But is this program really for me? Absolutely. It all starts with attitude, you did not learn to walk in one go, did you? Everyone starts somewhere. This is the place where you can start. Progress is rapid if you apply yourself. Most importantly, you will have a lot of fun with it!
Why are we offering this program? It is because of people like yourself, who never had the chance to belong to the hockey world. Whatever the reason may have been in the past, it is no longer relevant. You can now get in the game, and enjoy it just as much as anyone else. But be careful, it may become an obsession. 😉
Keep reading below, taking the program will be the best thing you have done for yourself this year.
Check out this recent article in the Edmonton Journal about the Discover Hockey program. CBC also did a story about the program in Calgary.
For a more in depth feel of what the program is like, read Denise's session by session account.
Discover Hockey is 14 sessions that run approximately once a week, at the end of it you will become a hockey player, that we can promise! Just ask the thousands of people like yourself who have discovered hockey already, and are still playing.
What you get:
An unbelievable hockey experience and an opportunity to realize your hockey dream
8 on ice, skill development sessions with qualified instructors

First 2 sessions focus on skating and stopping

2 off ice orientation/classroom sessions
4 NCHL league games vs. the other beginner teams formed during the program

You will be playing against the players in the other program sessions, same skill level as your team

Program fees are 499+GST in most locations, however check pricing for Calgary, Edmonton and Richmond to be sure.
You can also SAVE $50 per person if you register in a group of 3 or more players. Each player will receive the $50 buddy bonus and any other players joining later who are part of your group get the same deal!
If you want to see what the program is all about from a complete newbie perspective, check out this series by Juris Gurney of the Edmonton Journal who took the program recently. Aussie on ice, blow by blow account – learning to ice skate and play Canada's game.
Can't make it this time? Subscribe to receive schedule updates, news and discounts.
Schedule Pages For Current Sessions
Mohamad Learns To Skate And Play Hockey
Orientation Session
Your orientation will start in a local hockey store with your NCHL instructors and the stores hockey equipment experts. This session will focus on educating new players on the essentials of the game – from the bare necessities like how to fit skates and helmets, to some lesser-known and often forgotten hockey tips. Where should you be spending your money on equipment and what to expect from the program.
Click HERE for a recommended equipment list.
Also, CBC did a story about the program back in 2013, check it out!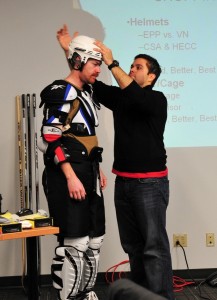 On Ice Sessions
8 on ice sessions will start with the backbone of hockey; skating.  Our instructors will run a series of drills designed to teach you to skate like a hockey player, even if you have never had a pair of skates on in the past. As you progress through the program the focus will turn to the game of hockey, and how you'll begin to play it. You will go through offensive and defensive positioning, puck movement, as well as game play. You will not only become a hockey player, but you will also understand the game better and have more fun playing it.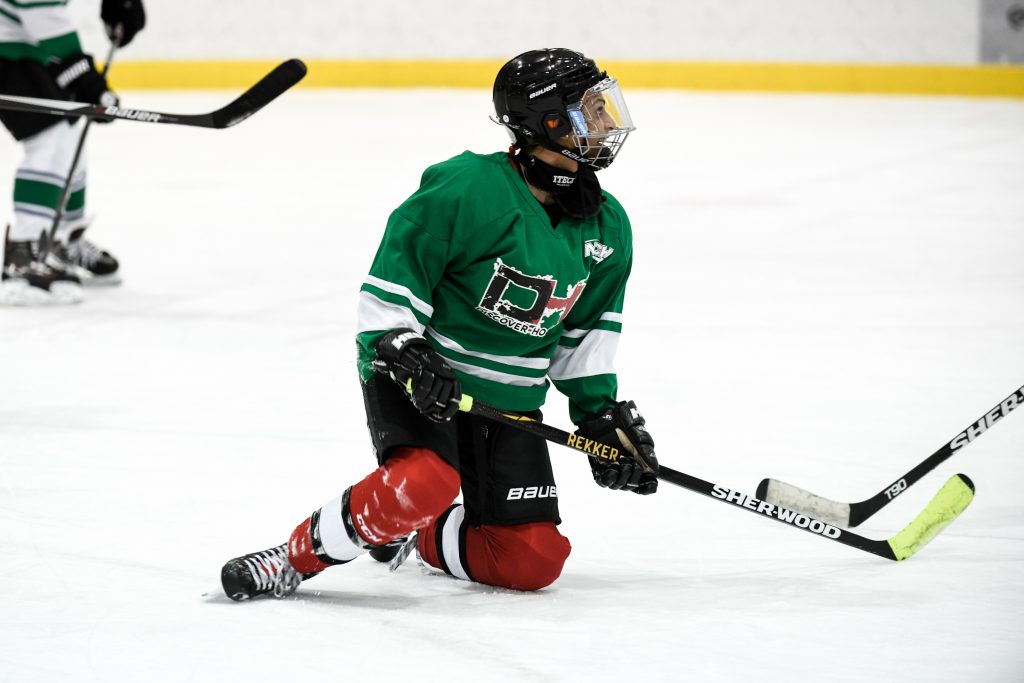 Classroom Session
Between the fifth and sixth ice sessions you will head back to the classroom where the NCHL instructors will outline the team concepts behind the game of hockey. Have a look at the Beginner HandBook.
This session is also used to organize the team aspects of the program. You will pick a team name, General Manager and Captain, as well as discuss the option of ordering personalized jerseys and continuing to play in the NCHL at the conclusion of the program. After all, this is what it is all about, playing hockey on a team with friends.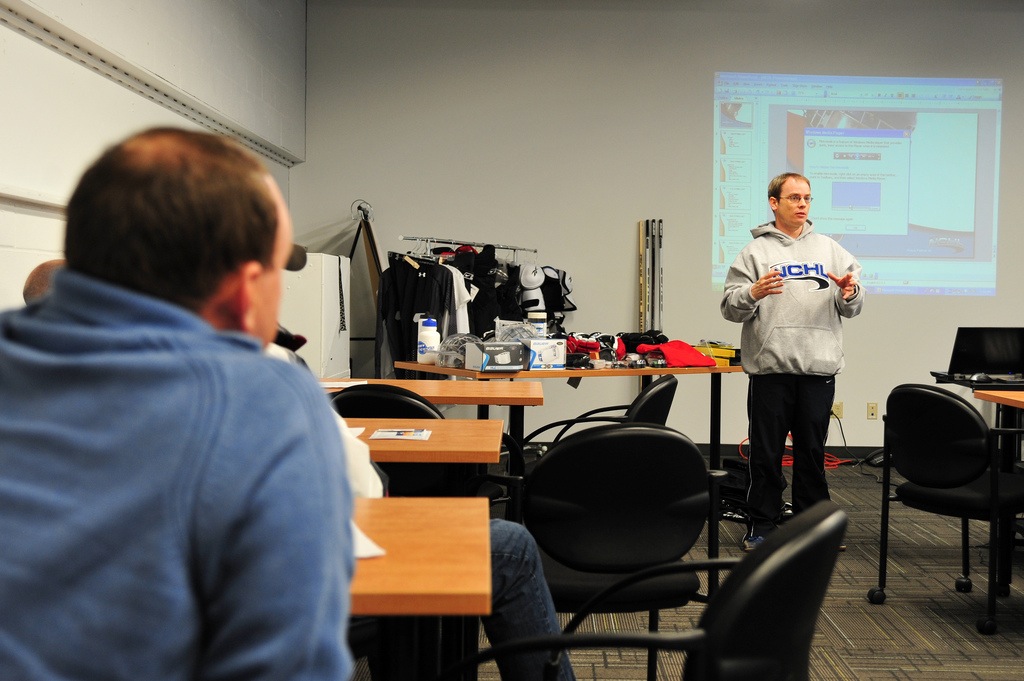 NCHL Games
At the conclusion of instruction part of the program, you and your team will play four games against other NCHL beginner teams, complete with referees and a scorekeeper.  Use your new skills with your teammates and start playing the game you love. After the Discover Hockey Program is finished, you will have the option to join the NCHL and continue playing league games. To do that, you and your team will choose a general manager who will receive all registration information and will take care of registration details. We are here to help you with any questions about starting a team and will guide you all the way so you can continue playing the best game on the planet for years to come.