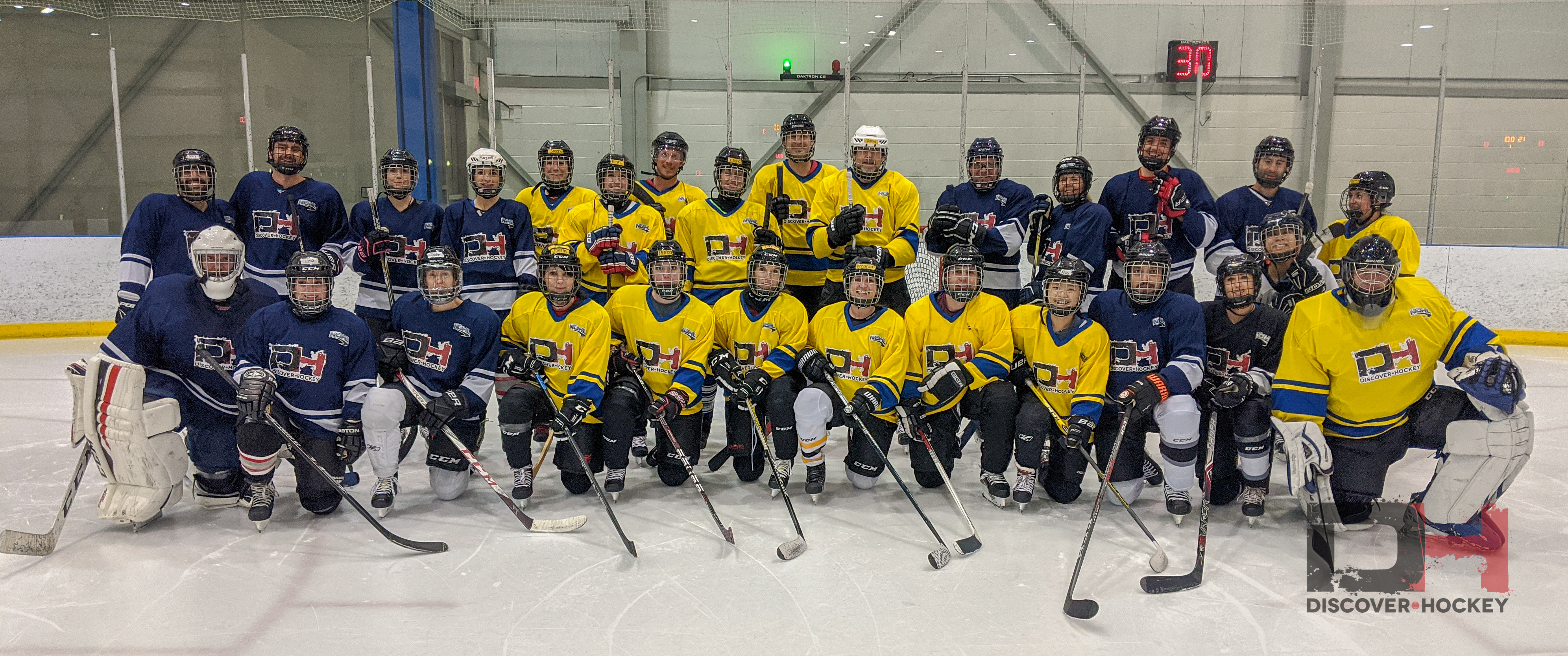 I registered for adult beginner hockey in January 2022 and made my childhood dream of playing a reality. This is my story, where I will chronicle my journey week-to-week as I become a hockey player.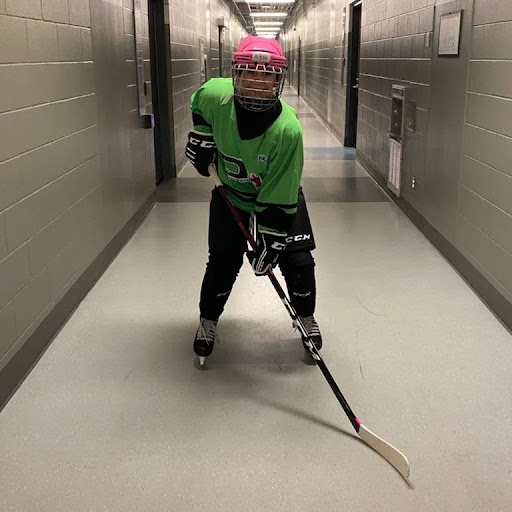 Since the tender age of 5 years old I have wanted to play hockey. My best friend Jocelyn played and I have fond memories of attending her games and skating on her backyard rink. I still remember the first pair of hockey skates I put on. That's when my passion for the sport began.
Like many young parents, my mom couldn't afford to put me in the sport as a little girl. She and my dad separated when I was about six and she was the primary caregiver for me throughout my childhood. Fortunately, I did have the opportunity to pursue sports in early adolescence though, including competitive fastball, basketball, volleyball, soccer, and cross country running. These are sports I continue to enjoy playing today, particularly running and basketball.
And last week, my dream of playing hockey finally came to fruition! I can't describe the rush of emotion I felt as I geared up in the dressing room and experienced for the first time at 35 years old what it's like to be a "hockey player". I truly felt my soul come alive!
I am so blessed to have an amazing husband who has been supportive of this dream since the moment I shared it with him. He encouraged me to chase this dream and has been so generous in helping me to get prepared over the past few weeks. All the credit for my amazing gear and how to "dress like the pros" goes to him! He is an exceptional hockey player himself having played Junior B and college hockey, so I'm grateful to have his mentorship on this journey.
Last Monday was the first session of our 12-week Discover Hockey program. It teaches the fundamentals of hockey, organizes four exhibition games, and graduates your team into the Non-Contact Hockey League (NCHL) upon completion. I can hardly believe I'm going to play on a REAL hockey team at the end of this program!
During our session, we learned the "hockey stance", how to properly hold your stick, how to jump, twist, and spin without falling, and the mechanics of falling down and getting back up in a safe and timely way. I think we intentionally fell down and got back up at least 30 times! Needless to say, our legs were burning by the end of the session!
What I enjoyed most about the first session though was the emphasis on connection and establishing relationships with our teammates. The exercise in connection was not only close to my heart because I value people and relationships so much, I am a Registered Psychologist and huge Dr. Brené Brown fan! 
Before we hit the ice, we sat in the dressing room and introduced ourselves. We talked about what brought us to the program and shared one interesting fact about ourselves. It was a neat experience learning about some cool and unique things about each other! Any anxiety in the room dissipated and connections began to form immediately. I even exchanged phone numbers with a woman on my team named Dawn who I met at our orientation session a few days prior! I just knew we'd be fast friends!
I can tell that the Discover Hockey program is definitely that kind of community; a community that fosters connection, trust, fun, passion, and belonging. 
What more can you ask for when you're stepping into the vulnerability and unknown of something you've never done before?

Now back to the ice experience…
Once we hit the rink and began our drills, the cool air coming off the ice coupled with the comfort and empowerment of my gear was nothing short of incredible. It was everything and more than I hoped it would be! And to top it all off, the leadership and coaching of Jeff and his mentors was amazing. They were as enthusiastic and excited as we were and they ensured we felt safe, comfortable, and encouraged in our unique ability and skill set. They emphasized over and over, "don't compare yourself to anyone else" and that was validating and reassuring. 
There are certain qualities I look for in a leader; safety, humility, genuineness, authenticity, and passion to name a few. All of these were evident in Jeff, Ali, Darcy, and the other mentors I had the privilege to watch and learn from. 
Honestly, I don't remember the last time I was this excited, giddy, nervous, inspired, and eager to pursue something new! Last week's session wasn't long enough, even after 75 minutes on the ice. And next Monday feels too darn far away to wait! Can't we skate every day?! 
To anyone who is reading this and considering registering for Discover Hockey, let me emphasize, it is NEVER too late to pursue a childhood dream! Whether you're 25, 45, or 65, you will not regret pursuing the desires of your heart! 
It is truly a place where people can come together over a shared passion, step into courage, pursue childhood dreams, foster friendships, and experience the joy of trying something new!
Even after one week into the program, I already recognize this is so much more than just learning to play hockey, it's about personal growth, relationship-building, and cultivating new experiences. 
I look forward to sharing this journey with all of you in hopes it encourages you to finally do the thing you didn't have the opportunity to do as a child or even as an adult! 
See you next week! 
35 going on 5,
Ash
Read about Week 2 and what happens next here …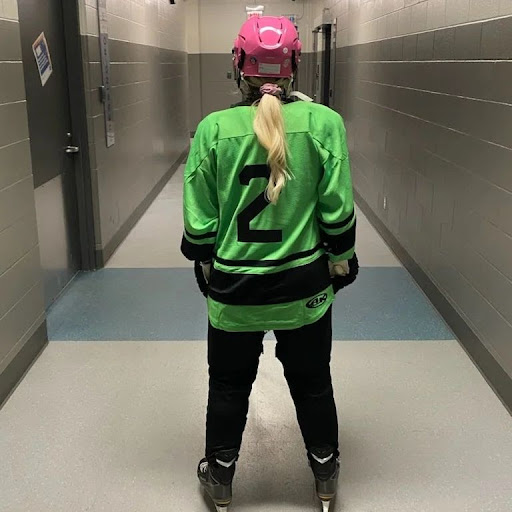 If you are reading this and thinking to yourself that it is time for me too to try hockey, registration is open now in Calgary, Edmonton, and Richmond. Spots are limited though and many programs already have, or will sell out!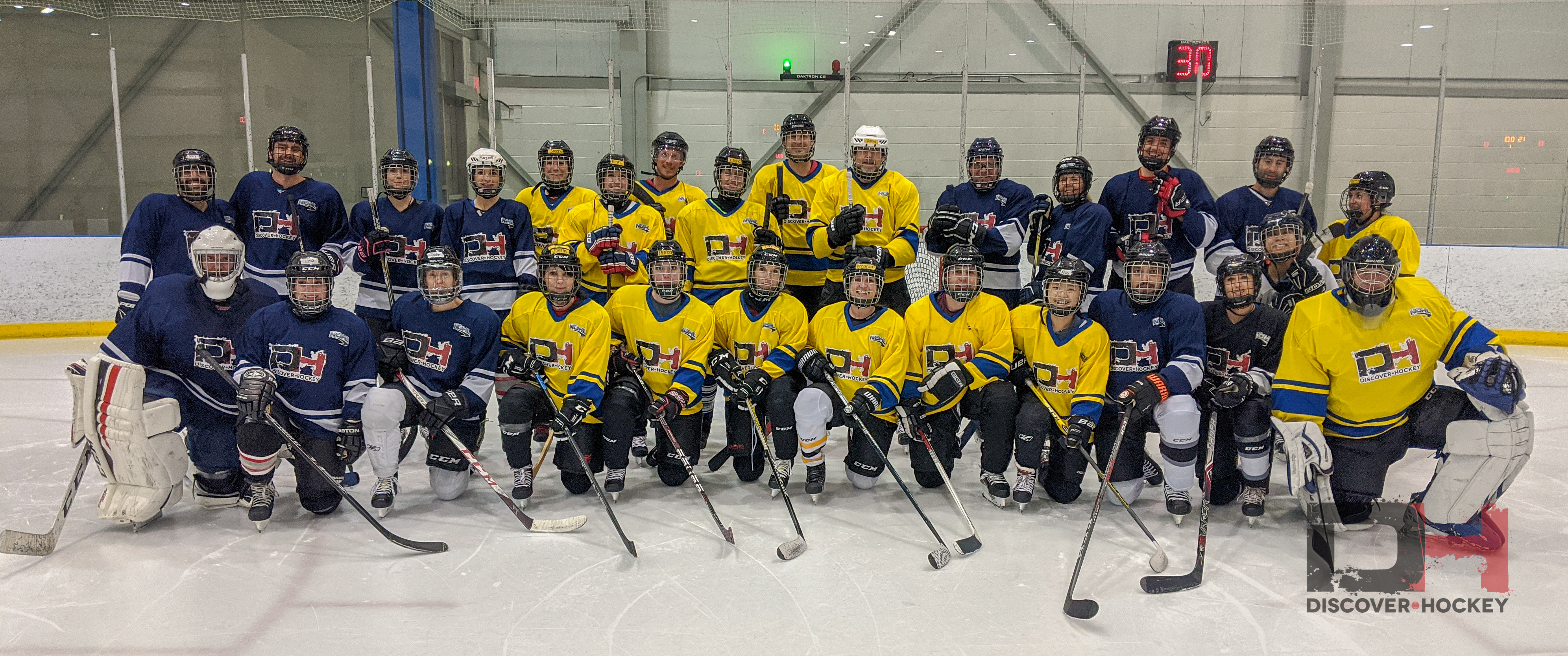 ABOUT:
Discover Hockey is a beginner program for adult men and women who want to learn to skate and play hockey in a safe and fun environment. Learn all the basics of skating and game play without the fear of being judged, form life-changing bonds with your new teammates, and join a league as a team to play hockey in a real season!
Discover Hockey beginner adult hockey classes are currently offered in Calgary, Edmonton and Richmond, BC. If you and your friends want to take the program please visit the schedule pages. Save $50 per person when signing up with two or more friends with the Buddy Bonus!
If you think this program should be offered in your area, please contact us.