Born and raised in Edmonton, Stuart tried his hand at basketball and came up just short of the NBA. Now 37, Stuart decided he was ready to embrace his country's roots and is taking a shot at Canada's game. We sat down with Stuart to find out more about the man they call "The Great Beard of the North".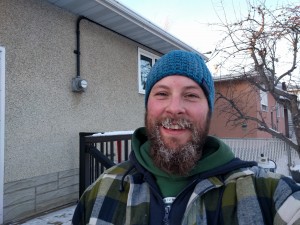 DH: Start from the beginning Stuart, how did you get the hockey bug?
SM: Growing up in Edmonton, I've always loved hockey and the Edmonton Oilers. They're my favourite team, except for when Team Canada is playing.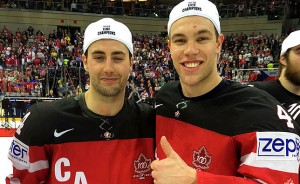 DH: Sorry to hear that, Stuart. At least you can count on Canada to win some times. What is the one thing that surprised you about playing in the Discover Hockey program?
SM: How seriously (in a good way) it's taken. It's truly a functional program to launch you into being able to play in a league going forward, not just a one time hockey experience.
DH: What would you say to someone who is sitting on the fence right now and is thinking of taking the program?
SM: Hockey night is the day you will look forward to the most in the week. Guaranteed.
DH: I agree. Who is your hockey idol and why?
SM: Messier. He's a great player, and a great leader, he played the game hard but also made it look like a lot of fun.
True story: When I was 10 years old in 1988, my Dad took me to game 2 of the Campbell Conference finals against the Red Wings. Messier scored a goal after coming out of the penalty box on our way to a 5-3 win and an eventual Stanley Cup. I cheered so much that I spilled some ice cream from my drumstick (thanks Dad) on the sweater of the fan in front of me. My Dad had to apologize to the fellow but when we're winning it's all good!
DH: Thank God it happened in the 80's then and not now! What's your prediction for the Stanley Cup final this year?
SM: Hawks vs Caps, but unfortunately for Ovechkin, there's no besting Captain Serious.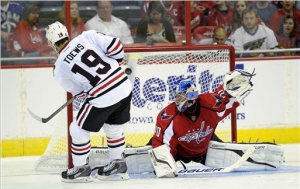 DH: That would be a great series. What's your favourite movie and song?
SM: The original Star Wars trilogy, and "Home for a Rest" by Spirit of the West.
DH: If you could choose someone to depict your character in a movie about your hockey obsession, who would it be, and what would be the story line?
SM: Jason Lee. I'm not sure my hockey life story meets the Hollywood grade just yet, but stay tuned, I'm still Younger Than Jagr (Working Title).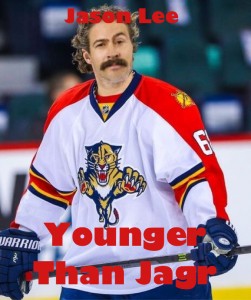 DH: Wow that's a great title, you might want to trademark that before it's too late! Where would be the most exotic place you'd want to visit and play hockey at?
SM: Wherever Budweiser builds their next crazy rink, maybe in the middle of a desert next time? How about Mars Hockey some day? Elon Musk, make it happen!
DH: Now that would be something else! If you could click your skate blades twice and make any hockey wish come true, what would you wish for?
SM: I would wish I started sooner. Not that it's too late, but I could have been doing this all along.
DH: Imagine this, you wake tomorrow and you are the NHL commissioner for one day. You can do whatever you want, what would be your first act?
SM: The NHL agrees to never prevent any player from ever playing for their national team. I can't believe that always seems to require new negotiation.
DH: Smart move. The Olympics are best when they have the best!
Well thanks for stopping in Stuart. Good luck to your team in the rest of the season, and good luck to the Oilers in the draft lottery. But we all know they don't have any trouble with that…
As for me, I'll touch base with Elon to see what we can do about having our next Draft Tournament on Mars.