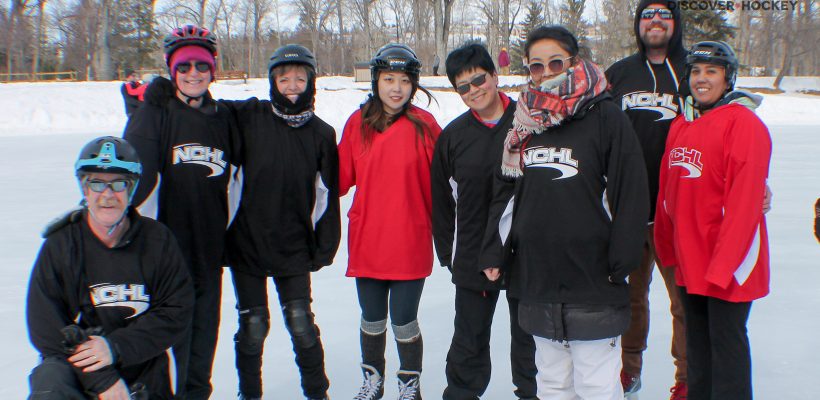 It was the perfect hockey weather. Not too cold and definitely not too warm. This past weekend we held a free skating lesson at the beautiful Bowness Park in Calgary. Suffice to say everyone was a little nervous at first, getting on the outdoor rink can feel daunting.
But as Carson guided the program participants into the basics, they began to warm up to the idea of strapping two knife blades two their feet. Suddenly, a new world opened up – being able to stay active and enjoy winter, with confidence!
If you would like to participate in the next free learn to skate for hockey lesson we'd love to have you out. Please give us your contact info and we will let you know about the next free skating program opportunity.
As Mary wrote to us:
"Great event. Great confidence booster!
Carson is an excellent coach… knowledgeable and attentive. I'm a fairly competent forward skater, it's just the darn stopping! The tips for that were useful, but I still haven't got it figured out. More practise is needed for sure.
I appreciated the reminder of weight placement for backward skating. That's made a huge difference! I'd actually love to go again!"
Paige told us: "The instructions and tips given were great! They were easy to follow for a beginner like myself. After the event, I came to be clear on what to focus on when practicing, and now I am excited to improve my skills based on what I have learned! It feels I learned so much in a short period time!"
Check out some of the highlights from the skating lesson below:
We all had a blast hosting the skating lesson. Many of you said that you can't wait to get on the ice again, and isn't it what this is all about? The love of the game?
Good news, the spring Discover Hockey beginner programs are starting soon (in Calgary, Edmonton, and Richmond), where you can take the basics learned in the free skating class and take it to the next level learning more skating and also about stick handling, passing, shooting, and team play.
And the best part at the end of the program you will have an opportunity to form a real beginner ice hockey team that will play in the beginner division of the NCHL.
You can see the schedules and register here.
We hope to see everyone again soon!