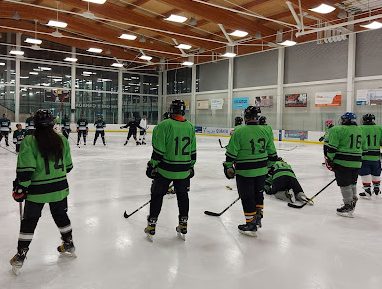 This was another exciting week in the Discover Hockey program!
We arrived two hours early for a classroom session that focused on teaching us the game of hockey. Our coaches, Jeff and Jeff, used a hockey board with magnetic players to teach the basics including the formation of a team, how to line up for a face-off and what icing and being offside means.
Most of the people in our group either watch hockey or have children enrolled in hockey, so the rules of the game seemed quite familiar to them. For me on the other hand, I do neither! Lol. My son won't start his first hockey season until the Fall so I haven't had much exposure to the game itself. 
To be quite frank, I was never interested in watching hockey prior to this program, other than watching my husband play shinny. My apologies to all of the die-hard hockey fans out there! Now though, I LOVE watching the game because I'm interested in learning the fundamentals of the sport and learning each position. It's much more than just a bunch of people skating back and forth across a rink. I have a deepened appreciation for the value, intensity, and challenge of the sport!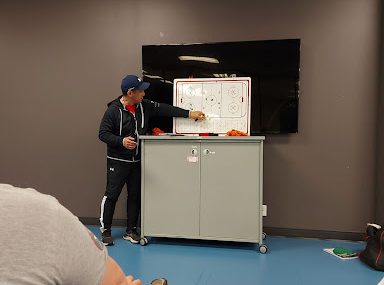 After we wrapped up the classroom session we headed down and got dressed to hit the ice. We learned a great defensive drill and practiced stopping the puck with our skates from a pass that was wrapped around the boards. Then, the most exciting part of the session, we scrimmaged!!!!
The multiple exclamation marks is not a typo, that is the level of excitement I felt about playing! 
Honestly, I don't remember the last time I was that excited! It wasn't the kind of excitement I feel on any given day after having a great session with a client, hearing about my son's day at preschool, or catching up with a friend. It was a playful, child-like excitement that I haven't felt in a really long time. 
I was the starting centre position and absolutely loved it! I play point guard in basketball so it was a familiar position to step into. I still have so much to learn about this position though, including how not to gas myself out in the first 5 minutes and preserve my energy! I learned very quickly how exhausting it is to skate back and forth really fast, start and stop repeatedly, and chase a puck! 
It was a lot of fun to watch my teammates step into their positions as well and I'm so proud of how well we performed! I don't think an outsider would have known it was our very first time scrimmaging. The final score was 4-2 for the opposing team, but we were so proud of how we showed up and poured our hearts into the experience. Regardless, we walked away feeling like winners!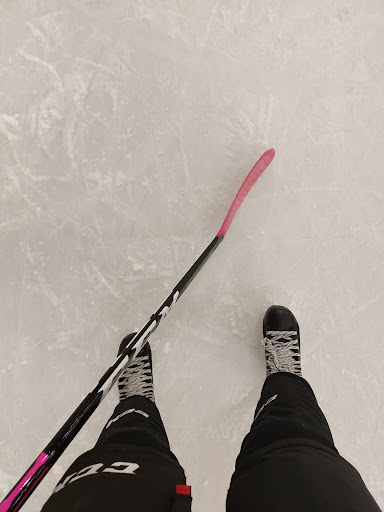 As I reflect on the session, there is something really special for me about starting hockey at 35 and not 5. I think there is a different kind of appreciation that comes with starting something new as an adult. 
Having played other competitive sports since a young age, I never valued those opportunities the same way because it was just "what I did". This time though, it feels more like exploring and nurturing new and different parts of myself. The version of myself that I am becoming because of this experience, feels so liberating and empowering.
I've accomplished and done a lot of things in 35 years, but this feels different. There is an intrinsic level of motivation that inspires me. It's not about the next business award, professional accolade, or personal achievement, it's about fuelling my soul and child-like freedom that isn't attached to any outcome or result.
I'm so glad I registered for this program, nerves and all, because I can't imagine hockey not being a part of my life moving forward!
I look forward to next week's session to see in what other ways I can learn and grow into my new identity as a hockey player. 
Thank you for following my Discover Hockey journey and I look forward to sharing more next week! 
With Gratitude,
Ash 
If you are reading this and thinking to yourself that it is time for me too to try hockey, registration is open now in Calgary, Edmonton, and Richmond. Spots are limited though and many programs already have, or will sell out!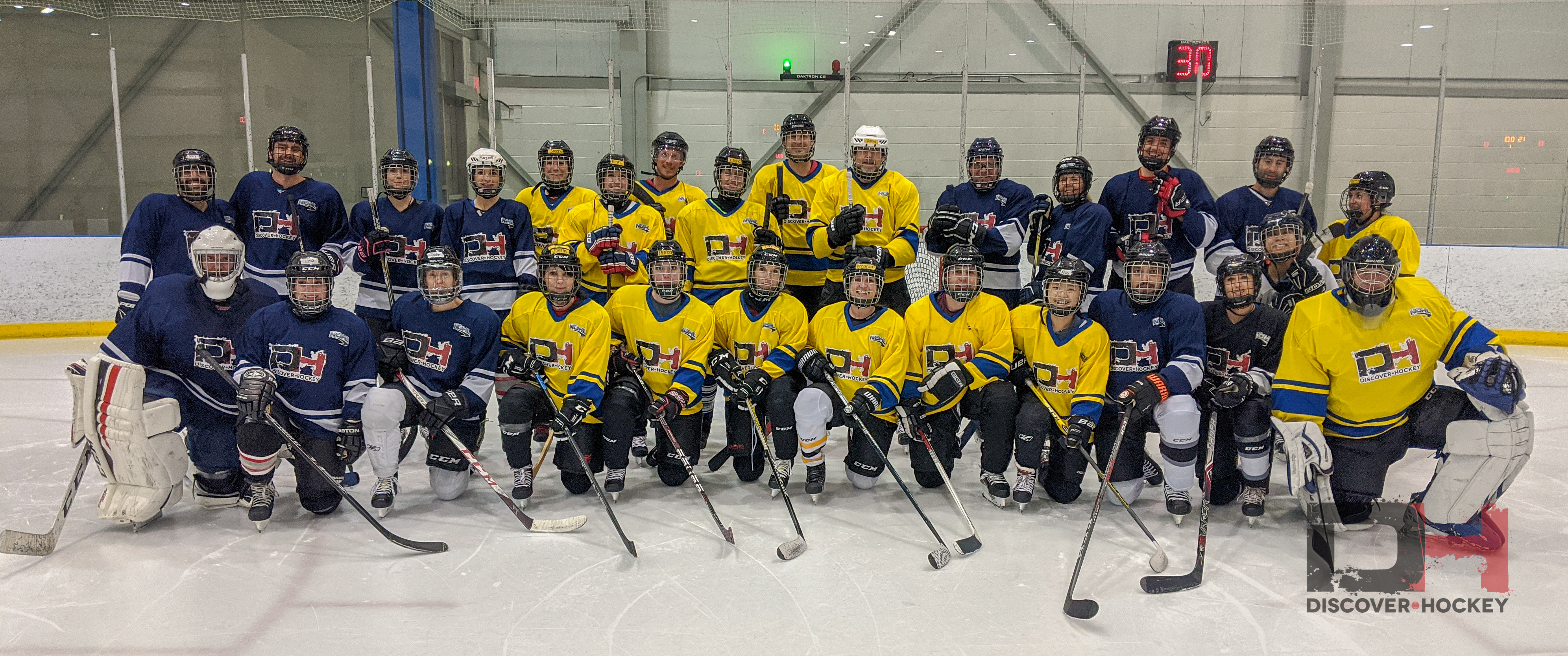 ABOUT:
Discover Hockey is a beginner program for adults who want to learn to skate and play hockey in a safe and fun environment. Learn all the basics of skating and game play without the fear of being judged, form life-changing bonds with your new teammates, and join a league as a team to play hockey in a real season!
Discover Hockey beginner adult hockey classes are currently offered in Calgary, Edmonton and Richmond, BC. If you and your friends want to take the program please visit the schedule pages. Save $50 per person when signing up with two or more friends with the Buddy Bonus!
If you think this program should be offered in your area, please contact us.