Some would call him the heart and soul of the Grey Team – a leader on and off the ice. But for his biggest fans, they just call him Dexter. Let's take a closer look at one of the newest up and coming stars that the NCHL has seen in recent years.
DH: So Dexter, tell me how you fell in love with the game.
DS: I never had much of a desire for sports until I started dating my wife who was a major hockey fan. That year the Montreal Canadiens won the cup in '92-'93 and I caught the bug. Unfortunately, I could not afford to get involved. Then in September of 2015, I became an assistant coach on my son's Timbit team, and after playing along with the kids I discovered how much I love playing the game. One of the other coaches told me about the NCHL league and I joined this past winter. It has been the best experience and our team is taking this to the next level by starting a team in the NCHL summer league.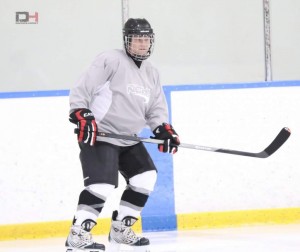 DH: What is the one thing that surprised you about the Discover Hockey program?
DS: The most surprising thing about this program is that nobody is judged or laughed at, and even the experienced players are supportive.
DH: What would you say to someone who is sitting on the fence right now and is thinking of taking the program?
DS: Come watch and see what we do and just go for it. I was so unsure about this until I started, and what I have learned I will never forget.
DH: Who is your hockey idol, and why?
DS: My hockey idol is Patrick Roy, I loved how the guy played and I have always thought of him as the best goalie. Deep down I would love to be a goalie.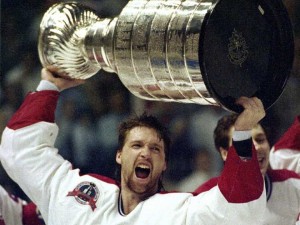 DH: I hear he had a pretty good season in '92-'93. What's your prediction for the Stanley Cup this year?
DS: Chicago and Washington. Chicago to win.
DH: If you could click your skate blades twice and make any hockey wish come true, what would you wish for?
DS: My hockey wish would be to skate at the Bell Centre with the Canadiens for a game opener. Also to be a goalie.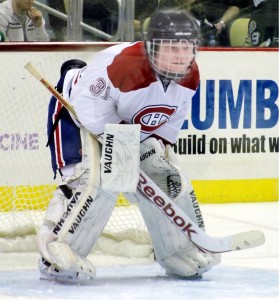 DH: Well we do offer goalie instruction at the Discover Hockey Program! Who knows, if Carey Price is out long enough, they might need you!
Imagine you are NHL commissioner for one day – you can do whatever you want – what would be your first act?
DS: Bring another hockey team to Canada, and try to find a way to make games more affordable so more people can enjoy.
DH: What is your favourite team, and movie?
DS: My favorite teams are Montreal and Calgary. Favourite movie is Star Wars.
DH: If you could choose someone to depict your character in a movie about your hockey obsession who would it be and what would be the story line?
DS: (Laughs) I could not imagine my journey depicted in a movie.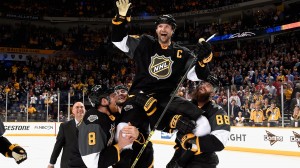 DH: Hey, John Scott said the same thing and now look at him! Where would be the most exotic place you'd want to visit and play hockey at?
DS: Hawaii, if they have ice there.
DH: They do in their Piña Coladas… But Hawaii has the same chance as a Canadian team at winning the Stanley Cup this year, so maybe they should get some!
Thanks for taking the time to meet with us Dexter, good luck in the summer season and don't hesitate to come back again! The fans always love it when you come in.