Christine has always been a polo player but recently decided to trade in her horse for a stick and some skates, and she's never been happier! This week's Player Profile explores more into Christine's transition of learning a brand new sport, and what keeps her motivated on the ice.
DH: So Christine – start from the beginning – how did you get the hockey bug?
CK: I have been playing polo and it's really "hockey on horseback". A polo game is played between two teams with four players on each side. The members are designated as "attack" or "defence" and each has the job of furthering their own goal tally while preventing the other side from scoring. Now while playing polo over the summer and competing in the US I kept thinking I would like to try hockey, so in the fall when polo season was over I started to search around options of how to learn to play. I went into a hockey store and asked them about adult hockey. They referred me to UBC where I started to take weekly private hockey lessons. I did skate a lot as a child and young adult, so I had skating skills and couldn't wait to buy a stick and start learning about passing the puck. While doing the private lessons I've kept searching on the web and finally found Discover Hockey. I immediately registered and started with the course, and I have never ever looked back.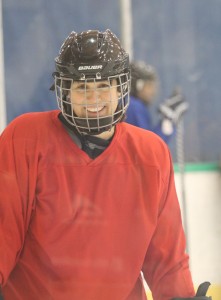 DH: What is the one thing that surprised you about the Discover Hockey program?
CK: I am not too old to start! Learning the drills really creates progress. It is OK to be older and we can all have fun and learn.
DH: What would you say to someone who is sitting on the fence right now and is thinking of taking the program?
CK: The evenings when I drove out to the Oval in Richmond were the best evenings EVER! Loved the exercise, the team spirit, and learning the skills.
DH: I agree, there is nothing that beats going out and getting on the ice. Who is your hockey hero and why?
CK: I have a great deal of respect for the Sedins on and off the ice. Two of the classiest gentlemen out there! These guys are role models to look up to – they always take extra time after a game to hang out with kids. My favourite player is Daniel Sedin. Daniel is known as the goal scorer. He is slightly faster than Henrik, somewhat more aggressive, and his shot is incredible. He is usually in the right place at the right time, and nobody in the game of hockey can find another player like him. He also lives in Southlands and his kids ride horses, so I see him in person all the time. He took a photo with my son last summer while he was out with his daughter. In addition, when I had my very first private hockey lesson at UBC Thunderbird Arena, I saw both Daniel and Henrik sitting and watching their kids at their hockey practice. I've considered this as my "good luck charm" of my own future hockey training.
DH: The Sedins aren't very popular here in Calgary, but you have to respect the way they act on and off the ice! What's your favourite hockey team and movie?
CK: The Vancouver Canucks are my favourite team, and my favourite movie is The Horse Whisperer.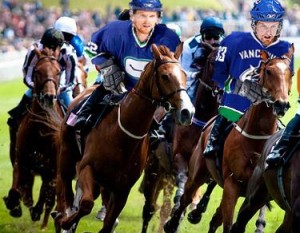 DH: If you could choose someone to depict your character in a movie about your hockey obsession who would it be and what would be the story line?
CK: Scarlett Johansson, and the movie would be about a mother of a grown son who is also a polo player who wants to prove herself that she is not old yet, so she takes up hockey and becomes really good at it… to all her middle-aged friends' surprise!
DH: Make a prediction about who will be in the Stanley Cup final and who will win it this year?
CK: I think the Capitals will be the winners.
DH: Ovechkin and the Caps are definitely going to be tough to stop. Where would be the most exotic place you'd want to visit and play hockey at?
CK: Calgary at the Calgary Stampede and I would play polo and then a hockey game immediately after.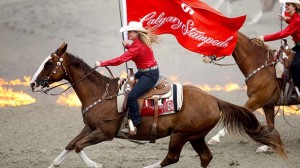 DH: Well we do have a Draft Tournament this year in Calgary during the Stampede in July! If you could click your skate blades twice and make any hockey wish come true, what would you wish for?
CK: I would wish that I started to play hockey at the age of 4 and by now I would have a great time playing all over Canada.
DH: That would be awesome. Imagine this, you wake tomorrow and you are the NHL commissioner for one day – you can do whatever you want – what would be your first act?
CK: I would allow players to play in their own home country and their home city and stick with that contract as long as possible. Have less politics involved in their life.
DH: I'm sure the players would definitely appreciate that! Well thank you for sitting down with us Christine, good luck in polo and in the hockey season coming up. Hopefully we will see you in Calgary this July!