Haitham is one of the current Discover Hockey players learning to play the game he loves. He is halfway through the program, so we sat down with him to see how he is doing and how it has met his expectations.
DH: So Haitham, how did you fall in love with the game of hockey?
HF: The very first game that I watched in my life was the Winter Olympics Gold Medal Game in 2010 when Canada won against the USA 3-2. I remember I was so excited and super happy when Crosby scored, although I didn't know anything about the rules of hockey other than trying to put the puck in the goal. Since then I started keeping an eye on hockey but didn't think about playing it.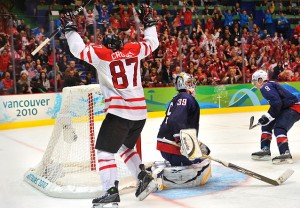 DH: One of the best moments in Canadian history for sure! What were your thoughts when you first signed up for the Discover Hockey program? What has your experience been like so far halfway through the program?
HF: I was so excited to start playing! So far it's a mix of fun and challenge. Like learning any new skill your passion has to be stronger than the challenge in order to achieve your goal.
DH: What is the most surprising part of the program so far?
HF: Frankly, I am surprised how a lot of people start at my age (mid 30's) which proves that it's never too late to start learning new skills!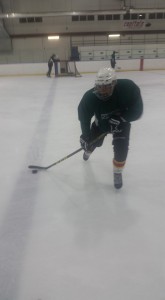 DH: Yes there are tons of people that have always wanted to play and have never taken that first step! What is your favourite hockey team and who is your hockey hero?
HF: I am a die hard Flames fan and Johnny Hockey – oops Johnny Gaudreau- is definitely my favourite. Not only he is a fast and passionate player but he is also very entertaining which makes the fans more engaged with the game and he seems to enjoy playing. Also, I met him once and he seems to be a nice guy.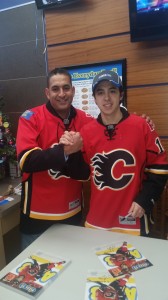 DH: If you could have any hockey wish come true what would it be?
HF: It would be fun if I could have a shootout against Carey Price and it would be a nice dream if I scored.
DH: You might need a couple tries to score on him… If you could pick one movie to represent your hockey story what would it be?
HF: Cast Away! Never give up – especially that no one in the circle around me play or even watch hockey. 
DH: I imagine the same movie except instead of a volleyball he has a hockey puck. WILSOOOOONNNN!!!! If you could play hockey anywhere in the world where would it be?
HF: I think Canada is the best place to play hockey. I would love to experience playing in the fresh air around the mountains on a pond somewhere.. That will be awesome!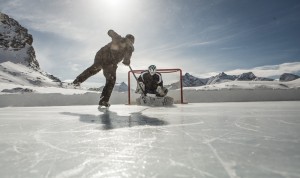 DH: Yes that would be awesome to play up in the mountains. If you could say anything to someone on the fence about taking the Discover Hockey program, what would it be?
HF: I would encourage him! However, I would advise them to be ready for the challenge and never quit!
DH: Definitely! It's not easy but it is SO worth it in the end once you can skate around the ice and score that first goal in a game. Nothing beats that feeling!
Good luck in the rest of your Discover Hockey sessions and in the upcoming season! Thanks again Haitham!