This week's Player Profile is on Kris McBurney from Edmonton, Alberta. Lucky for him though, he is not an Oilers fan, thank god! Kris – who just turned 41 – started playing hockey recently and now plays 3-5 times a week. Find out more about how he became a full time hockey player in just a couple of months!
DH: Start from the beginning, how did you get the hockey bug?
KB: I've always had the hockey bug. Growing up we couldn't afford to play in a hockey league or the equipment so I played pond hockey (not well) with a pair of microns and an old Koho piece of lumber. I woke up last year and decided it was time to check it off my bucket list. I found the Discover Hockey program, registered, bought equipment, tried to convince my friends to join (to no avail) and here we are: one year later making up for lost time, and playing hockey 3-5 times a week!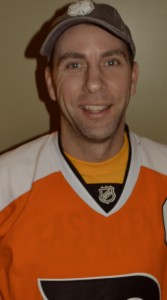 DH: That sounds awesome! Maybe now that you're famous you'll be able to convince them to play. What is the one thing that surprised you about the Discover Hockey program?
KB: The passion that it instilled in me to get better and to tell everyone else about it. I felt nervous and embarrassed at first (Canadian that can't skate!?). After taking the program I realize that there is a lot of us in that situation.
DH: Yes there are definitely tons of people out there that want to play and just need to take that first step! That's what the Discover Hockey program is all about. Who is your hockey idol and why?
KB: Wayne Gretzky, "The Great One". I mean, I grew up in the 80's. I saw Gretzky play at Northlands [Rexall Place] when I was 7 years old. It truly was an amazing time. How can he not be my idol?
DH: Yeah tough to not like Gretz, growing up in Edmonton. What is your favourite hockey team, movie and song?
KB: Keep the jokes to yourselves, but the Philadelphia Flyers – the Broadstreet Bullies! My favourite movie is Spiderman. Favourite song is Monkey Wrench.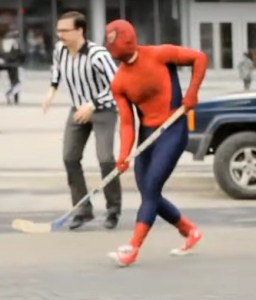 DH: I wonder if Spiderman would be any good at hockey… If you could choose someone to depict your character in a movie about your hockey obsession who would it be and what would be the story line?
KB: To pick someone to play me, it would have to be me! No one else could possibly get the likeness correct. I would call it East of Edmonton. Small town Canadian boy struggles to make it to the show. Kind of a Rudy meets Rookie feel-good movie.
DH: I don't know, I can see the resemblance to Brad Pitt, you've never gotten that before? Definitely sounds like a best seller though. Make a prediction about who will be in the Stanley Cup final and who will win it this year?
KB: I would love to say the Flyers however, probably the Stars and the Caps. The Stars sweeping the series.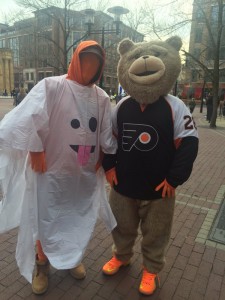 DH: You never know, they might be the hottest team in the whole league right now! If that Ghost Bear guy keeps it up they will be tough to beat. If you could click your skate blades twice and make any hockey wish come true, what would you wish for?
KB: I would wish that I could play in one NHL game, and score the winning goal in any game. Even an assist…just hang out on the bench?
DH: Yeah that would be awesome! I think we all wish for that. Where would be the most exotic place you'd want to visit and play hockey at?
KB: I would love to play hockey in the Borneo Rain Forest (if it was possible). That way I would be a superstar, getting all the oohs and ahhs! Hopefully they have never seen or heard of hockey…
DH: You would definitely be a superstar over there. Probably have the paparazzi following you around like crazy! Imagine this, you wake tomorrow and you are the NHL commissioner for one day, you can do whatever you want, what would be your first act?
KB: I would make it so that women could play in the NHL. I have two daughters, and I hate they can't have that dream!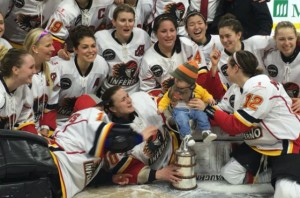 DH: Well with the success of new leagues like the CWHL, maybe one day it will be just as big as the NHL! What would you say to someone who is sitting on the fence right now and is thinking of taking the Discover Hockey program?
KB: DO IT!! It is a life changer in every way! The community you will be introduced to is crazy. You will all have something in common at the end. You are hockey players!!  I did it and I have nothing to regret except for the fact I didn't do it earlier!
DH: I agree, it's never too late to start! Well Kris,  good luck to you and your daughters in the upcoming seasons, and maybe we will see your Flyers go on a bit of a Cinderella run coming up!
Thanks again.