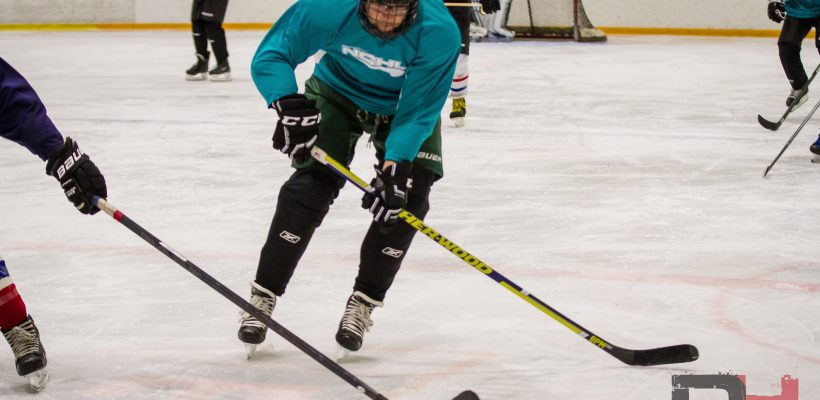 Marc Lachambre played lots of sports growing up, but as the story often goes, hockey was out of the cards for his family. It can be tough to convince the rents that getting up at 6am to drive you to the cold rink is worth all the money it costs. But that doesn't mean hockey wasn't a part of Marc's life growing up. There was still street hockey, and playing on the outdoor rink, and even NHL 93, making Gretzky's head bleed (presumably).
But it wasn't until years later when Marc was "older" that he went to the rink at his friend's house and remembered how fun it could be. That lead him to searching for adult beginner hockey programs in Calgary, and lo and behold, the Discover Hockey program was there to take him in.
Now he has just finished the program for a second time because he enjoyed it so much, and he says that "he should have done this a long time ago".
To read more about Marc's hockey journey, read on below:
DH: Hi Marc. Thank you for sitting down with us today. Can you tell us where you grew up and a bit about your childhood?
Marc: I grew up in Fort McMurray and sports were definitely a part of my childhood – Fort Mac is a "young town" so there were lots of options to try out. I tried out karate, swimming, soccer, golf (still playing), squash and badminton. Ice hockey would have been nice, but not an option for my parents who weren't fans of getting up extra early in the morning, not to mention being worried about my safety. However, I lived in a good neighbourhood with other kids my age so we played quite a bit of street hockey during the whole year. Our "intermissions" consisted of Sega or Nintendo…and yes, we had the "wraparound" ban on whenever we played NHL.
DH: Please tell us your story about how you discovered hockey and what led you to register for the program?
Marc: A friend made a backyard rink and I hadn't laced on skates in a very long time…it was fun to just shoot the puck around and started wondering if there was a way for an "older" guy like me to get into hockey and not get killed… I think I might have literally searched "learn to play hockey Calgary" on the internet and it came up with Discover Hockey. It was a pretty easy decision to sign-up and give it a shot – I needed to get into better shape anyways!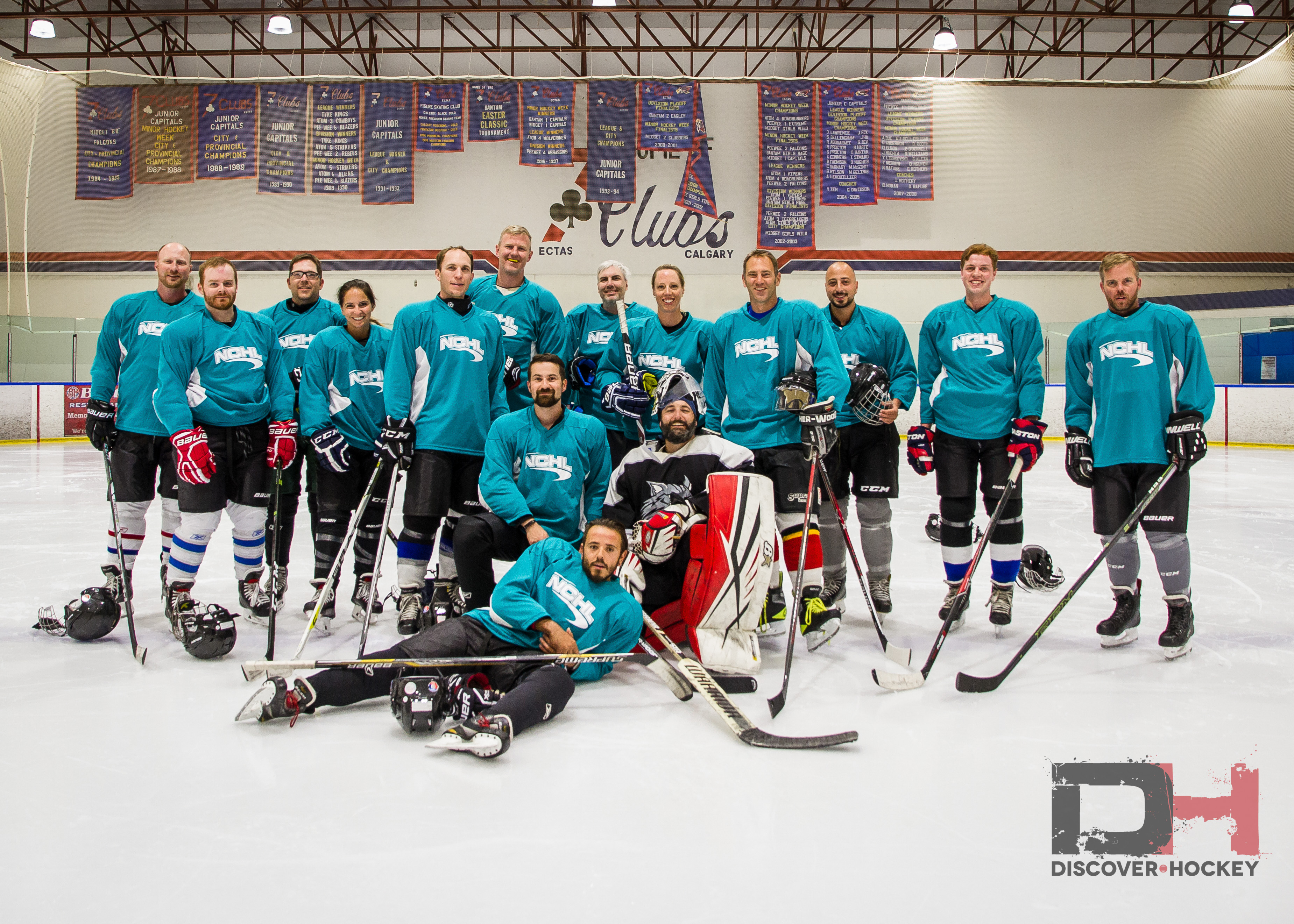 DH: What were your expectations/apprehensions before you started the program and how do you feel about it now that you have finished it?
Marc: I expected an understanding, patient and low-pressure environment and that's exactly what the program is – I'm on my second time through and the tone is pretty consistent.
DH: Did you learn anything about yourself after taking the program?
Marc: Absolutely – that it truly is possible to "get fit and have fun." It's funny how those Body Break "ParticipACTION" commercials from the 80s and 90s (look for them on YouTube) resonate more today than they ever did when I was a kid. Thanks to Hal Johnson and Joanne McLeod – better late than never!
DH: Wow talk about a throwback! Now we'll have that song stuck in our heads all day… What was the most surprising element of the Discover Hockey program?
Marc: Not so much the program, but just the increased speed of hockey on a full-sized ice surface is still a bit daunting. Anything I felt I could do at glacial speed on a pond I could no longer do on the big ice, but I'm working on it.
DH: You'll get there! What is your favourite hockey team and who is your hockey hero?
Marc: Sorry Calgary, but I'm an Oilers guy – I have the dent in my forehead to prove it from banging it against the wall at some of the moves our GM has made. Oh well…watching McDavid helps. Can't say I have a "hockey hero" today, but it was definitely Gretzky growing up. I remember "The Trade" and being pretty crushed at the time
DH: If you could make any hockey wish come through what would it be and why?
Marc: Tough one…I'd say more honour amongst players and consistent refereeing in the pro-game. I don't have kids, but I'd need to explain how some of the stuff that happens is most definitely not okay even though the talking heads on TV try to justify it as being "part of the game."
My second choice is more selfish…I wish I could stop and turn on my left side.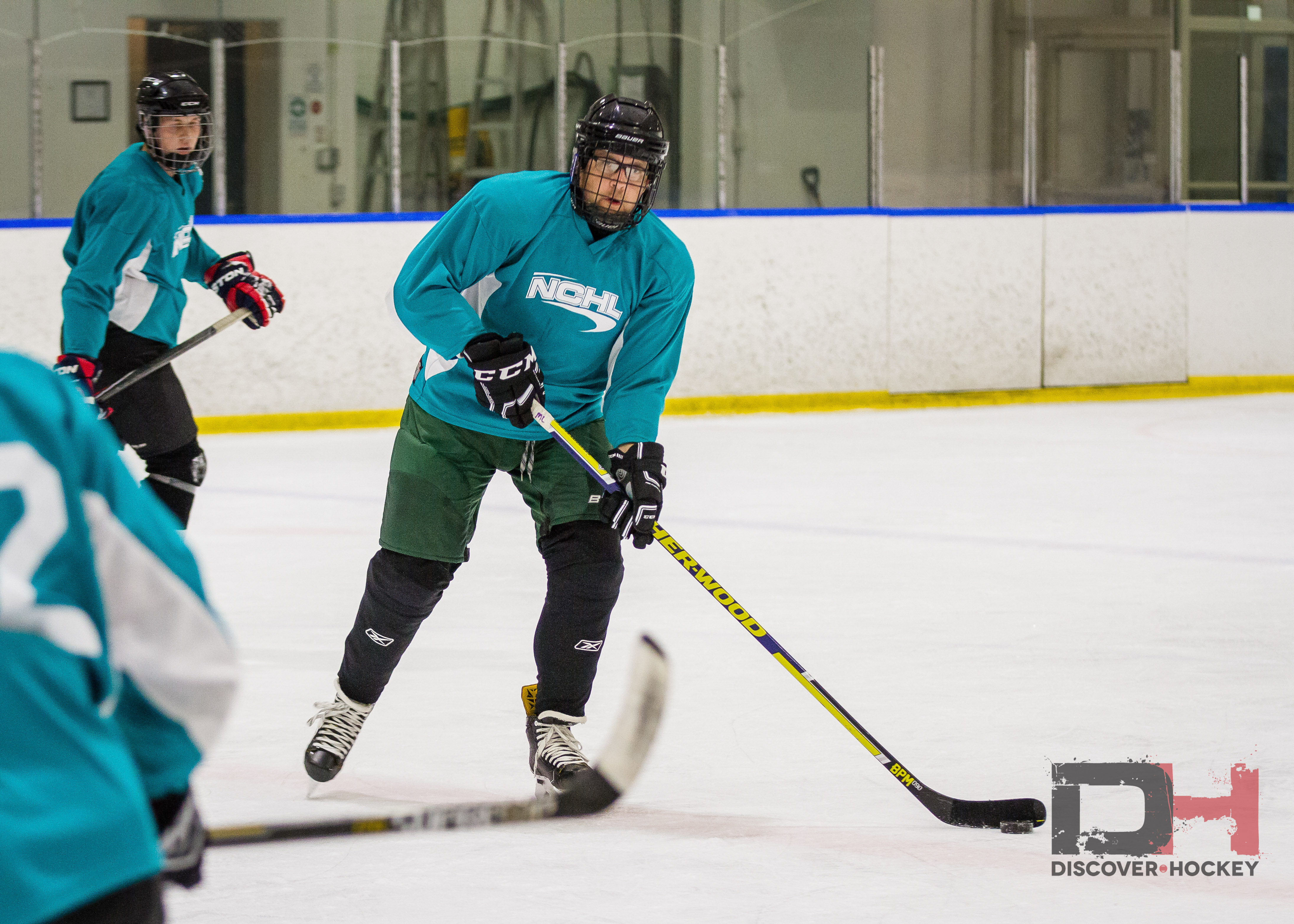 DH: Everything comes with practice! Just do a few stops and turns each warm up, and within a couple weeks you'll notice a difference!
Alright, Hollywood comes knocking on the door and they want to do a movie about you, who would play you in your hockey story and what movie is most likely to parallel it?
Marc: I just saw Deadpool 2 so I'll go with Ryan Reynolds – he's Canadian, is about my age, and might even look a little like me if he put on glasses and changed out his 6-pack for a keg. As for what movie would parallel it…no idea, none of Slapshot, the Mighty Ducks or The Goon seem to fit. However, notwithstanding my "honour" comment earlier, I am tempted to "put on the foil" in the dressing room just to say I did it.
DH: We love it! You find a genie in your water bottle on the bench and he says, you can play anywhere, absolutely anywhere in the world, where would you go and why?
Marc: Hawaii (Kauai to be specific) – the rink would be located right next to an ocean-view golf course. Gretzky went on Saturday Night Live once when he was with the Kings and did a cheesy (yet awesome at the same time) hockey-related sketch set in Hawaii which still makes me laugh.
DH: Someone is reading your story right now, and they are thinking of taking the program, but are not sure if it is for them, do you have any words of encouragement we can pass on, and what would you say to your former self before you took the program now that you know what it is like?
Marc: Just do it! (the cheque's in the mail, Nike). My low fitness level alone was enough of an incentive to give it a go and I have no regrets. There are variations in the ability of people taking the program, yet somehow it works very well and that's a testament to the quality of the coaches. What would I say to my former self? "You should have done this a long time ago."
DH: Thank you for sharing your awesome story with our readers Marc! It is great to see someone discover the game later in life and have so much fun with it!
If you are reading this and thinking to yourself that it is time for you too to try hockey, registration is open now in Calgary, Edmonton, and Richmond for the Fall programs. Spots are limited though and these programs will sell out!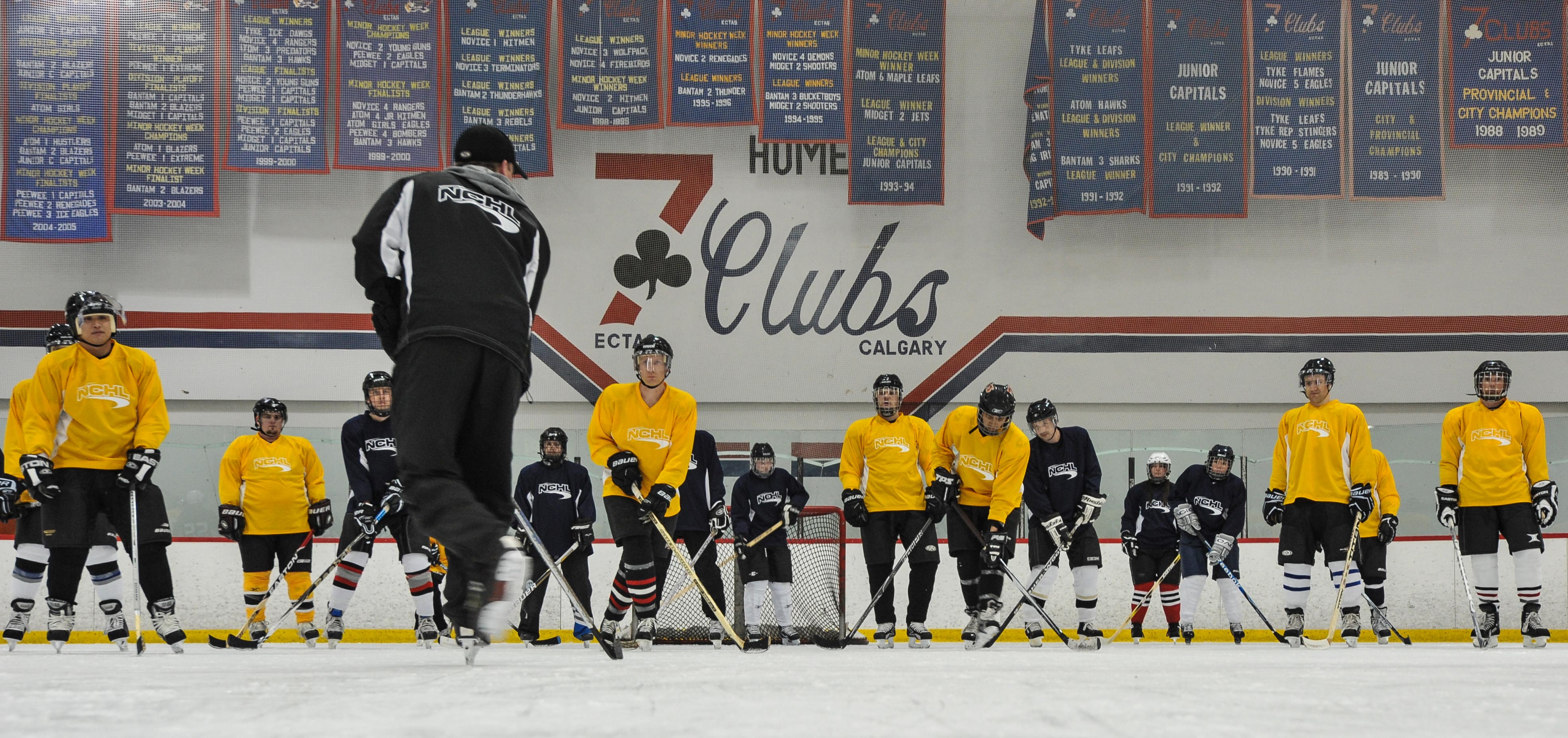 ABOUT:
Discover Hockey is a beginner program for adult men and women who want to learn to skate and play hockey in a safe and fun environment. Learn all the basics of skating and game play without the fear of being judged, form life-changing bonds with your new teammates, and join a league as a team to play hockey in a real season!
Discover Hockey beginner adult hockey classes are currently offered in Calgary, Edmonton and Richmond, BC. If you and your friends want to take the program please visit the schedule pages. Save $50 per person when signing up with 2 or more friends with the Buddy Bonus!
If you think this program should be offered in your area, please contact us.