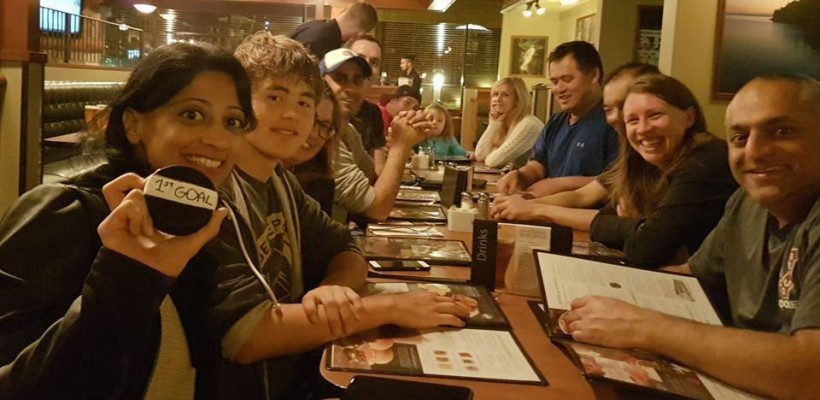 Growing up, Jas never had the opportunity to play hockey, by nature not a competitive person she was not even a hockey fan though occasionally she'd watch the Canucks game on TV and Team Canada during the Olympics. Being shy and reserved, she did not like putting herself out there, all that changed one day when she joined a ball hockey team because they needed a girl. She always thought it would be fun to be part of a team and instantly was hooked on the feeling of being part of a team!
One of the girls on the team tagged Jas in a Facebook post about learning to play ice hockey in a fun environment with other beginners. She ignored it. A few days later it popped up again and this time Jas seized the opportunity to change her life. She registered, and in January of 2016 for her very first Discover Hockey class and today we caught up with Jas Mor to find out how life has been treating her as a hockey player.
DH: After you decided to take the program, what did you do?

JM: I went online and finally registered for the program, then I got an email with a list of equipment I would need. I bought all of it the day before the first Discover Hockey class. I could hardly contain myself after this little shopping trip so I had to try on all of my gear as soon as I got home, but really had no idea if I was putting it on right or not ;). It turned out later I was wearing my elbow pads the wrong way for about four months until one of the coaches noticed and corrected me… Thanks Ben!!
Once I had my gear it was time to do the orientation. It was a nice way to meet the coach and other people registered in the program before our first ice session. We also had the opportunity to purchase our equipment from the hockey shop which is convenient! At the orientation it was just me and all these guys, they all looked super intimidating, but they ended up being the sweetest! There are way more girls taking the program now and that is great to see!

DH: How was the rest of the program, what did you learn, and how much did you improve from the starting point? 
JM: The rest of the program was great, I looked forward to going to Discover Hockey every Thursday night. In the beginning it was challenging, but as the program went on and I made some friends I really enjoyed it. I wasn't always eager to participate in the drills because I worried I was holding up the class, but I always tried and the coaches gave feedback when they could. The other players were very supportive and helped me as much as possible!
For the program, I ended up on team maroon, and I still play with the same team, but we're now called the No Stars! The day we got our official team jerseys was pretty exciting. We got to pick our own number and they have our last names on the back, this was my first ever team jersey! Andre took pictures during the game and after the game he took a team picture, that was special!
I think Andre did a great job coaching Discover Hockey. Everyone always seemed to be having a great time, the energy was always fun and friendly! He always made me feel welcome. After our last Discover Hockey game Andre came into the team rooms and congratulated everyone on finishing the program. He told me that we'll continue to work on my skating, so that helped me decide to sign up Discover Hockey again, because if the coach wasn't giving up on me there was no reason for me to stop…thanks Andre!!
Andre also makes videos of the Discover Hockey games, our shooting, and skating. He analyzes them and points out what needs work and how to improve, he also lets you know what you are doing right. This really helps players like me to improve our skills and enjoy the games more.
DH: How was your first real hockey game in the league?
JM: I was super nervous and excited. The game went by so fast and I'm pretty sure I didn't even touch the puck once but it was a blast! Even though my team lost that game, we remained positive in the dressing room. There was no dwelling on the negative or finger pointing, we were all just looking forward to the next game.
I started playing with the team a few months later because I decided I needed more skating and hockey practice before joining the league, so the team kept a spot for me and welcomed me as a teammate when I felt ready! Playing in my first game felt like a real accomplishment. Deciding to get some more practice and taking Discover Hockey again before jumping into the league games was really helpful because during the second Discover Hockey program I gained a little bit more confidence on the ice and this helped settle some of my nerves when it came to playing league games.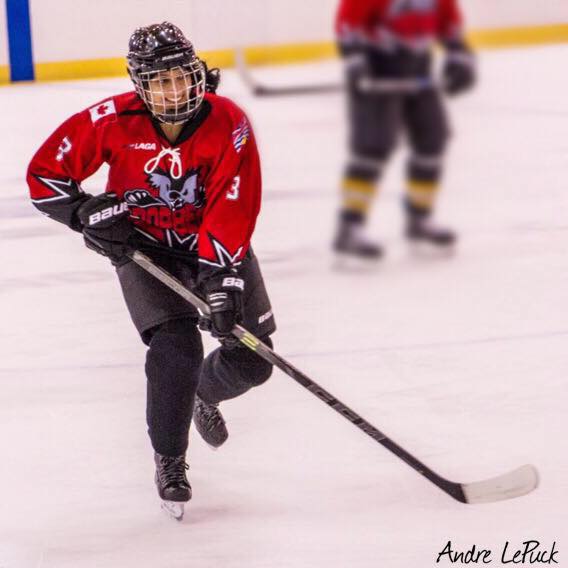 DH: What have you been doing to improve your skills?

JM: I took the Discover Hockey program four times. I love the program so much and I feel like it's a safe place to learn and develop my skills, so I am taking it again for the fifth time.I also took beginner skating lessons and power skating lessons and join as many extra hockey events offered by the league on Breakout.
The coaches know me and know where I'm at. If they see progress they make sure to share it with me and they continue to coach me so I get better. Retaking the program also helped me realize how far I've come. In the first program I could barely stand on the ice and now I'm skating, stopping, and starting to use my edges; this shows me progress. I don't think I'd be where I am if I stopped after one or two Discover Hockey programs! I needed the extra coaching and encouragement.
DH: How did it feel when you scored, your very own, first goal?

I scored my first league goal on June 28, 2016 it was an unreal feeling, definitely one that I will never forget! I didn't think I would score a goal so soon after joining the league, so I was pleasantly surprised! I got to skate by the bench and high five the team which was so cool, just like the do it in the pros! Everyone was really excited for me! Andre was refereeing the game and he had a GoPro on his helmet and GoPros behind the nets, so my first ever league goal is on YouTube, with commentary!!! The team captain, Steven, made sure to get me the puck, so I have the puck for memory too! Pretty awesome!
DH: What would you say to someone who has not taken the program yet and is thinking about doing it?
JM: If you are thinking about taking the program, I would say just do it, don't hesitate if I can do it so can you! You'll thank yourself once you've started! For me this was the best experience ever! Through this program I have met the sweetest most encouraging people – everyone from the coaches, players and referees. Everyone has been so welcoming and supportive which creates the best environment for learning and trying new things! I have never felt like I don't belong in the program or as a player in the league. The coaches' passion for the game really rubs off. They are all so dedicated to helping everyone learn and develop their skill. I've taken the program five times and there was never a time when anyone was left behind. The program prepares you to join the NCHL and become a hockey player. The best thing about this is watching the team grow together and seeing the friendships that form. In the beginning you celebrate the little victories like not getting caught offside and pretty quickly you celebrate everyone's first goal and it feels unbelievable!
DH: What does the future hold for you as a hockey player?

JM: I love playing in the NCHL! I hope to continue to get better at skating and improving as a hockey player. I play twice a week in the league and join the NCHL free shinny and pretty much all other events offered on breakout, so I'm on the ice five times a week! It is hard to improve if you only play once a week, so I try to get out as often as possible. I also play on two teams in the league. My first team is the No Stars and I recently joined a second team called the Dropbears who came out of the program.
I feel really lucky to be able to play in such a friendly league, thank you everyone for starting it! The NCHL gives super beginners, like me, a chance to step outside their comfort zone and start learning what looks like a pretty intimidating sport in a fun and safe environment. The commitment from the coaches and encouragement from other players in the league is pretty special! Players on opposing teams have told me after games how much I have improved and hearing that is truly heartwarming and I think this probably doesn't happen much in other leagues.
I recommend the Discover Hockey program to anyone who wants to try and learn, no matter what the skill level is. This was the best thing I have ever done for myself! I have become more confident I am pushing myself to continue to step further outside my comfort zone. The coaches have done an amazing job helping me believe in myself! Thank you very much for putting this program and league together! My first year playing hockey just wouldn't have been the same anywhere else!
DH: Thank you for taking the time to sit down with us Jas, you have a great story and we are excited to see how you improve even more over the next year!
ABOUT:
Discover Hockey is a program for men and women who want to learn to play hockey in a safe and fun environment, it is currently offered in Calgary, Edmonton and Richmond, BC. If you and your friends want to take the program please check out the schedule pages. To register please go to registration.