The NCHL has almost 300 teams, in 4 different cities across western Canada. That's a lot of teams, playing a lot of games, and scoring a lot of goals! But in Edmonton, there is one team with a special goal in mind.
21 Puck Street is a newly formed team from the Edmonton Discover Hockey program that was looking for a name, and an identity. When Jon Milton suggested that their team take it as an opportunity to spread awareness for Down Syndrome, everyone jumped on board. Jon has a 3 year-old daughter named Bekah who has Down Syndrome. She is a huge hockey fan and she loves to watch her cousin play. According to her dad, she gets really into the games and isn't afraid to heckle the refs when there is a bad call. She also loves the Toronto Maple Leafs, something that can only come from having a Leafs fan for a father 😉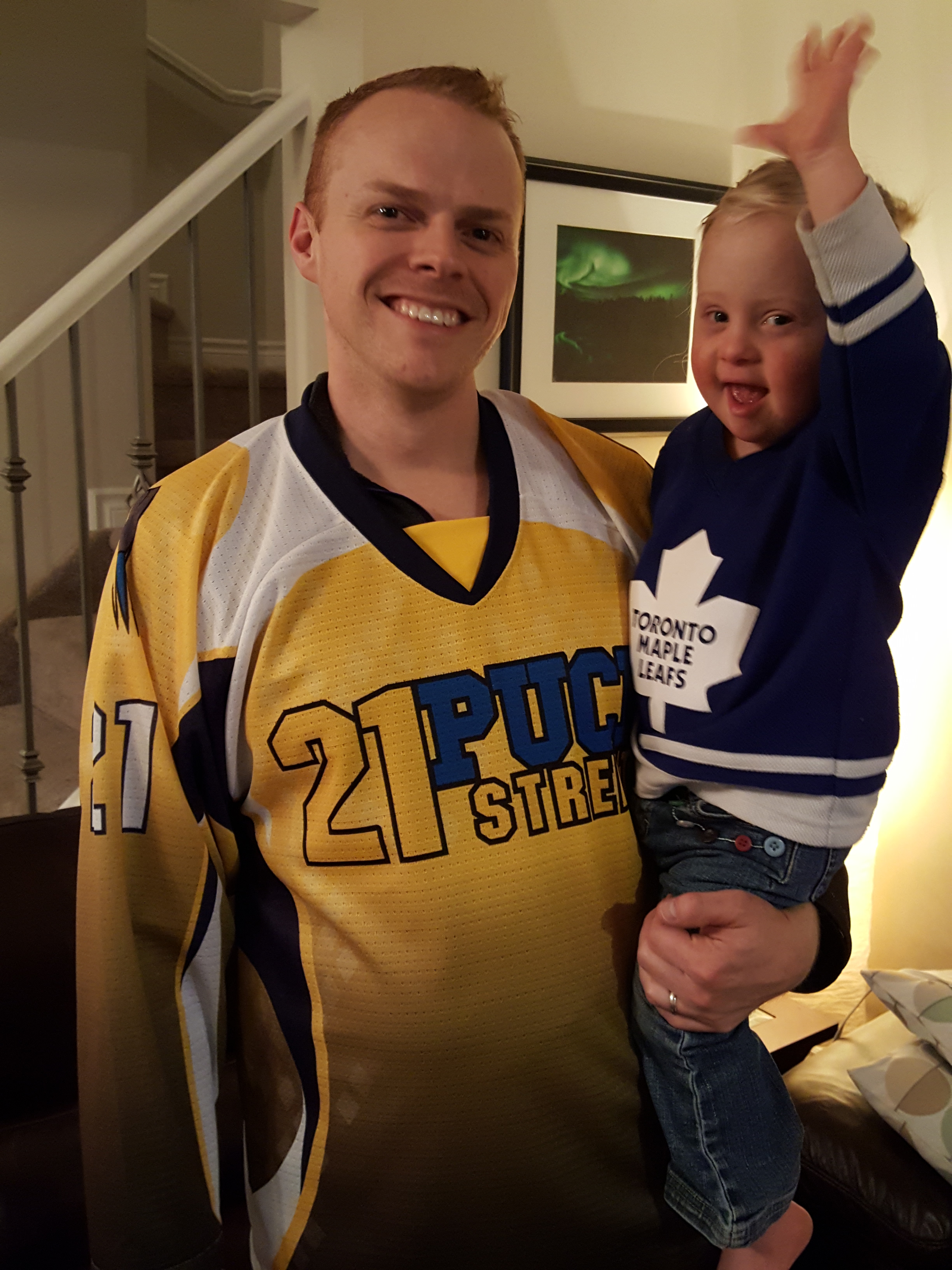 When Jon's team graduated from the Discover Hockey program and was deciding on a team name, he asked the team if they'd be okay with either naming the team something associated with Down Syndrome or using the international colours of awareness, blue and yellow. They decided to do both! Still wanting to keep a fun name in the spirit of the NCHL, they decided on 21 Puck Street. The 21 represents Trisomy 21, which is the medical term for Down Syndrome. They also went with blue and yellow jerseys.  Jon's company, The Co-operators, thought this was great idea as well, and donated $1300 to help pay for the jerseys.
Here is what Jon had to say about his team:
"I have been trying to think of something since Bekah was born that I could do to help advocate for Down Syndrome. It seems to come so easy for her mom – my wife Stephanie – but I could never seem to come up with anything.  When I met my current teammates in the Discover Hockey program, the idea just seemed to fit with what everyone seemed to value (their attitude towards supporting each other), and I saw it as a possible opportunity. Still, I wasn't sure what to expect when I made the suggestion. It's not something your average beer league team does.
But wow, I was amazed how much support everyone gave the idea and how excited they seemed about it.  I think because it reaches a lot of people. Maybe not specifically Down Syndrome, but I think just about everyone is either directly or indirectly affected by someone with a disability. Whether themselves, a family member or even just a co-worker.  People easily forget that everyone has something different about them and that's cool, it's what makes us people.  Really, my only goal with this idea was to reach as many people as possible to let them know that my daughter is just like theirs, just with an extra chromosome that gives her some challenges. 
The odd time you hear grumbling from other teams about losing, a missed pass or about their worst player. We don't have that on our team! We've lost almost every game we've played this season and we're still all laughing and having a good time. It's just the attitude that we've had since day one. We've had sub players comment about how enjoyable it was to play with our team and how well we seem to click."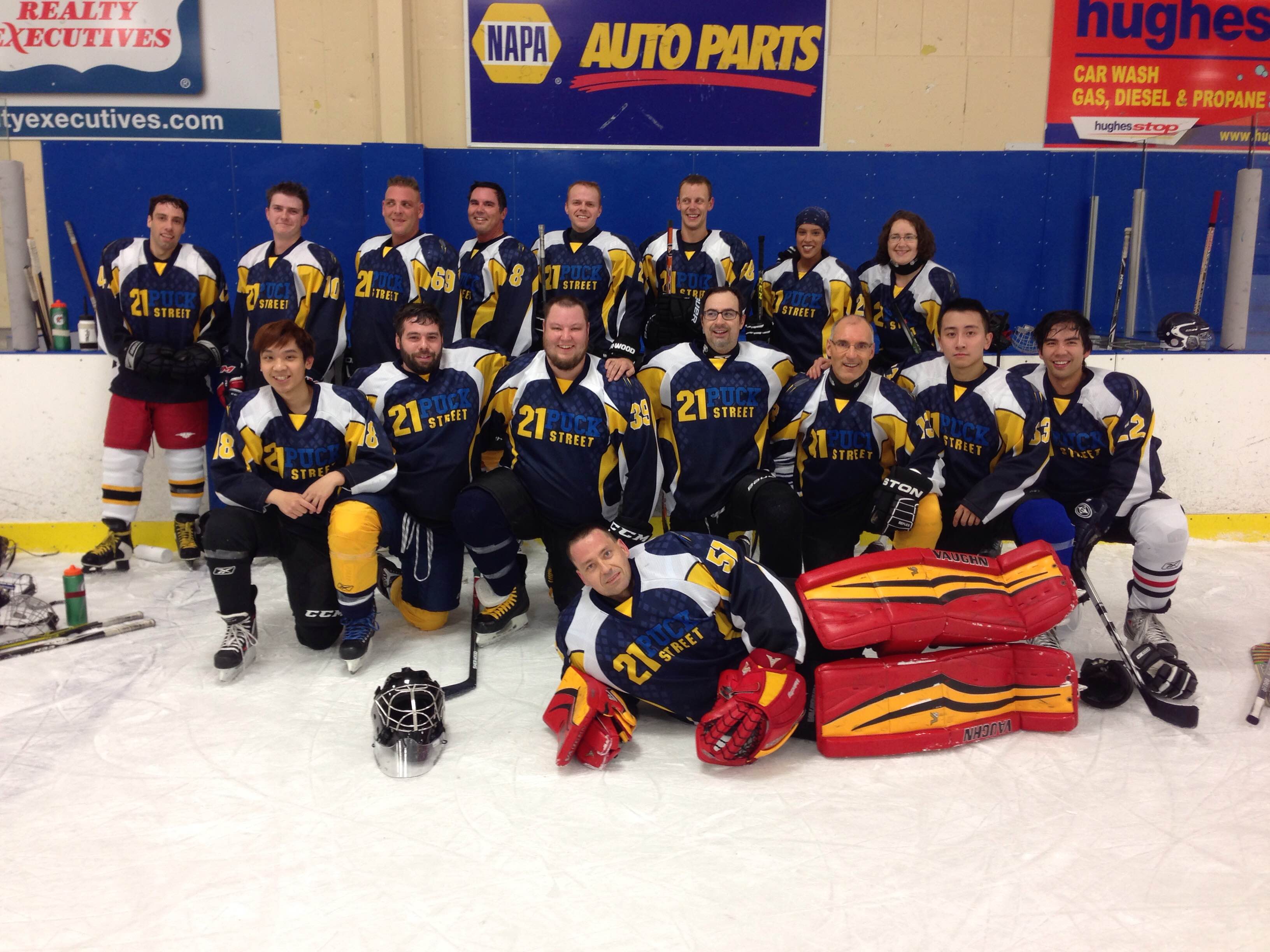 Sometimes there are moments in the sport that become bigger than the game itself. It is teams like 21 Puck Street that have a bigger goal than winning and losing, that make hockey so special. For them, it is about bringing a positive attitude and raising awareness for not just Down Syndrome, but for disabilities in general. And it is Bekah's positive spirit, and love of hockey that keep them going.
The team has also decided to donate half the money it receives during the year from late registrations, sub fees, etc. to the Canadian Down Syndrome Society. We wish them the best of luck in the rest of the season!
If you would like to donate as well, you can visit http://cdss.ca/get-involved/donations/ to find out more information.