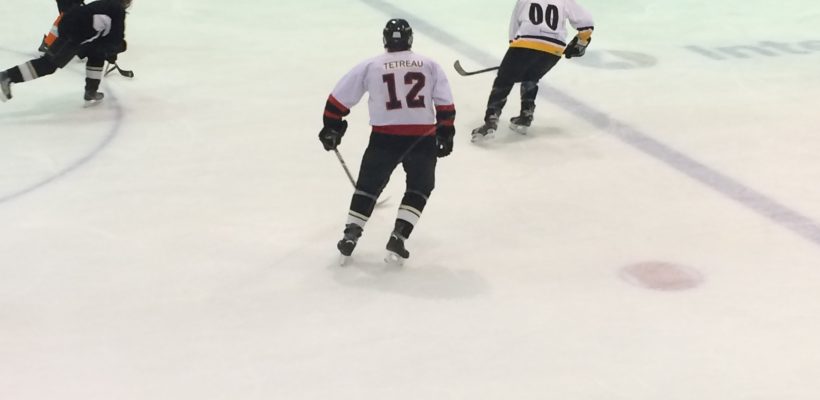 Today Curtis Tetreau lives in Bonnyville, Alberta but he grew up in Sherwood Park, where he did a lot of skating on the outdoor pond many a winter as a kid. Those were the days, crisp air hitting his face, hard ice under his feet, cutting left and right – he always wanted to learn to play hockey. Unfortunately his parents had other ideas and did not much like the 6 AM practices, and hefty financial obligations that came with minor hockey.
Years went on and Curtis no longer skated on that pond, he lost his ability to skate, but he never lost his passion for the game. It simmered under the surface for all these years until one day his son started initiation hockey in Bonnyville. "He was always asking me to go skate with him and I always made excuses that I couldn't find skates to fit my flat feet, as well as the fact that I couldn't skate to save my life!! That year they asked any parents that wanted to play at the last practice to do so. I still couldn't skate so I ran the door on the bench for the kids."
Curtis finally told himself that he would learn how to skate again, so that he can spend time with his son teaching him the game so dear to his heart. After a few trials and tribulations of acquiring skates that fit, Curtis took a few beginner skating lessons from the local rink and mustered the courage to volunteer as an assistant coach for his son's minor hockey team the next year. He was still pretty shaky, but he managed.
That year is when he noticed something about the Discover Hockey program on his Facebook feed. Fantastic! There is a program for someone like me thought Curtis. The only problem? It is in Edmonton and that is the closest location where it's offered. What now? Is it realistic to spend 5 hours a week for 12 weeks to drive into Edmonton to learn to play hockey? Two kids at home, wife, work, life and all the other things to worry about, who needs 5 hours of driving? After talking to his wife and discussing this possibility seriously, Curtis came to a decision: he would do it! He was committed to learning to play hockey no matter how far away it was going to be or how long he would have to drive!
We have sat down with Curtis to find out more about his journey to fulfill his life long passion of being able to play hockey, and the rest of the story is below. Read on.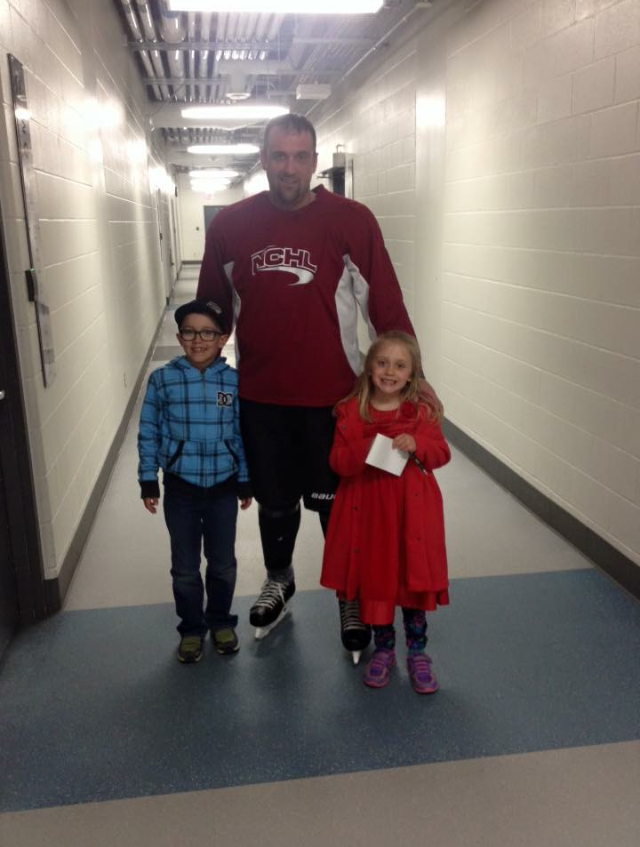 DH: Hi Curtis, thank you for joining us today. Can you tell us a bit about your childhood and where you grew up?

Curtis: I grew up in Sherwood Park and did a lot of skating on the local pond in the winters. I wanted to play hockey, but I don't think my parents were too keen on the early morning ice times and it was also a big financial obligation.
DH: You have an incredible story about how you discovered hockey and what led you to register for the program, please share it with our readers.

Curtis: When my son started initiation hockey here in Bonnyville, he was always asking me to go skate with him and I always made excuses that I couldn't find skates to fit my flat feet, as well as the fact that I couldn't skate to save my life!! That year (2013) the team's head coach asked any parents that wanted to play at the last practice of the season to strap on the skates and play hockey with their kids. I still couldn't skate so I ran the door on the bench and watched the game.
Next year I tried a couple different pairs of skates but still couldn't find a pair that wouldn't nearly cripple me after 10 mins of skating. I didn't give up, finally bit the bullet on some skates one day, and forced myself to go out on the local outdoor school rink with my wife and kids. Again the head coach asked for parents to play the kids in the final practice of the season and this time I couldn't refuse, although I volunteered to play net to avoid falling and crushing any kids! I played, and the only injury I caused was to myself!
The following year after taking a local adult "skating lessons for dummies" series of skates, I gained some courage and volunteered to help on the ice for team practices. I was kind of shaky but managed (and am VERY thankful to the coach for letting me help out). That was when I saw the Discover Hockey program on Facebook and talked to my wife about whether it would be realistic and tolerable for me to drive from Bonnyville to Edmonton every Wednesday for 12 weeks, and again, I have to thank my wife for holding down the fort while I drove the 5 hr round trip, for 12 weeks to "learn to hockey"!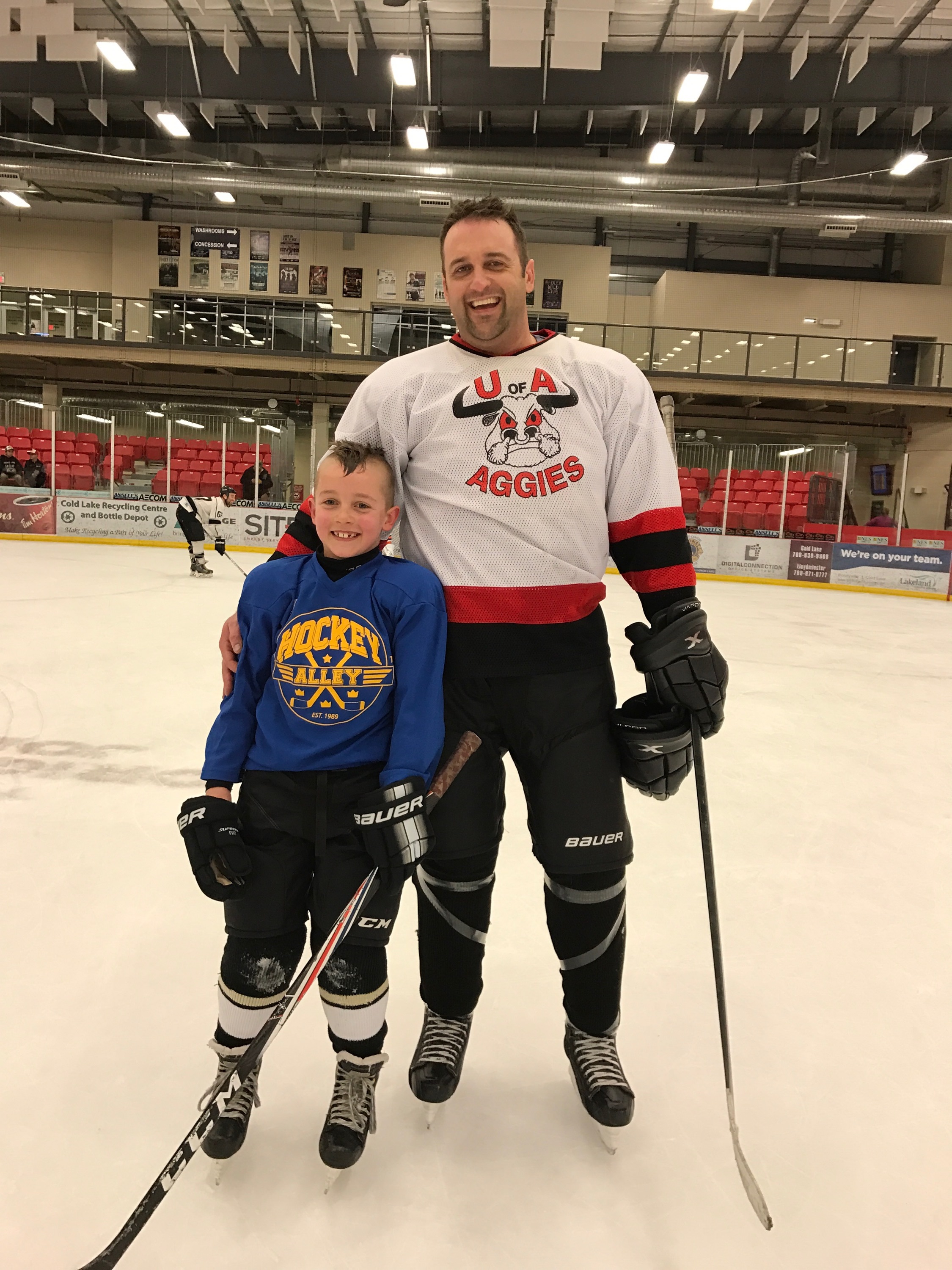 DH: That is truly an incredible story, and what a commitment on your and your family's behalf! What were your expectations before you started the program and how do you feel about it now that you have been in it?
Curtis: I was a little nervous about making sure I put all the gear on correctly, but I already had 3 years under my belt of helping kids in the locker room do the very same thing! I was worried that the "wide range of skills" wouldn't quite be wide enough to cover MY particular lack of skill. There really were many participants that were a lot fresher to skating/hockey than I was so that was a bonus and a boost to my confidence. I am now confident enough to get my butt to the rink and play 2 games per week, sometimes 3, with some great hockey players who are also patient enough to help me learn the game further and get better!
DH: Did you learn anything about yourself after taking the Discover Hockey program?
Curtis: I know it's cliché, but you really CAN do anything you want if you put your mind to it! I had such a good time helping coach my son and his teammates in his first year of Novice that I REALLY wanted to develop my skills to be able to continue helping/coaching. He is now playing Tier 2 Atom Division and has more than enough qualified coaches, but fortunately I am now helping coach my daughter's team and love being out there with them.
DH: What was the most surprising element of the program?
Curtis: How much the drills force you to skate outside your comfort zone. You are so focused on completing the drill correctly you don't even realize how much your skating is developing! It's amazing how much harder you will push yourself when you are in full gear and not so apprehensive to the risk of falling.
DH: What is your favourite hockey team and who is your hockey hero?
Curtis: The Oilers have always been my team, but Mark Recchi is my Canadian hockey hero.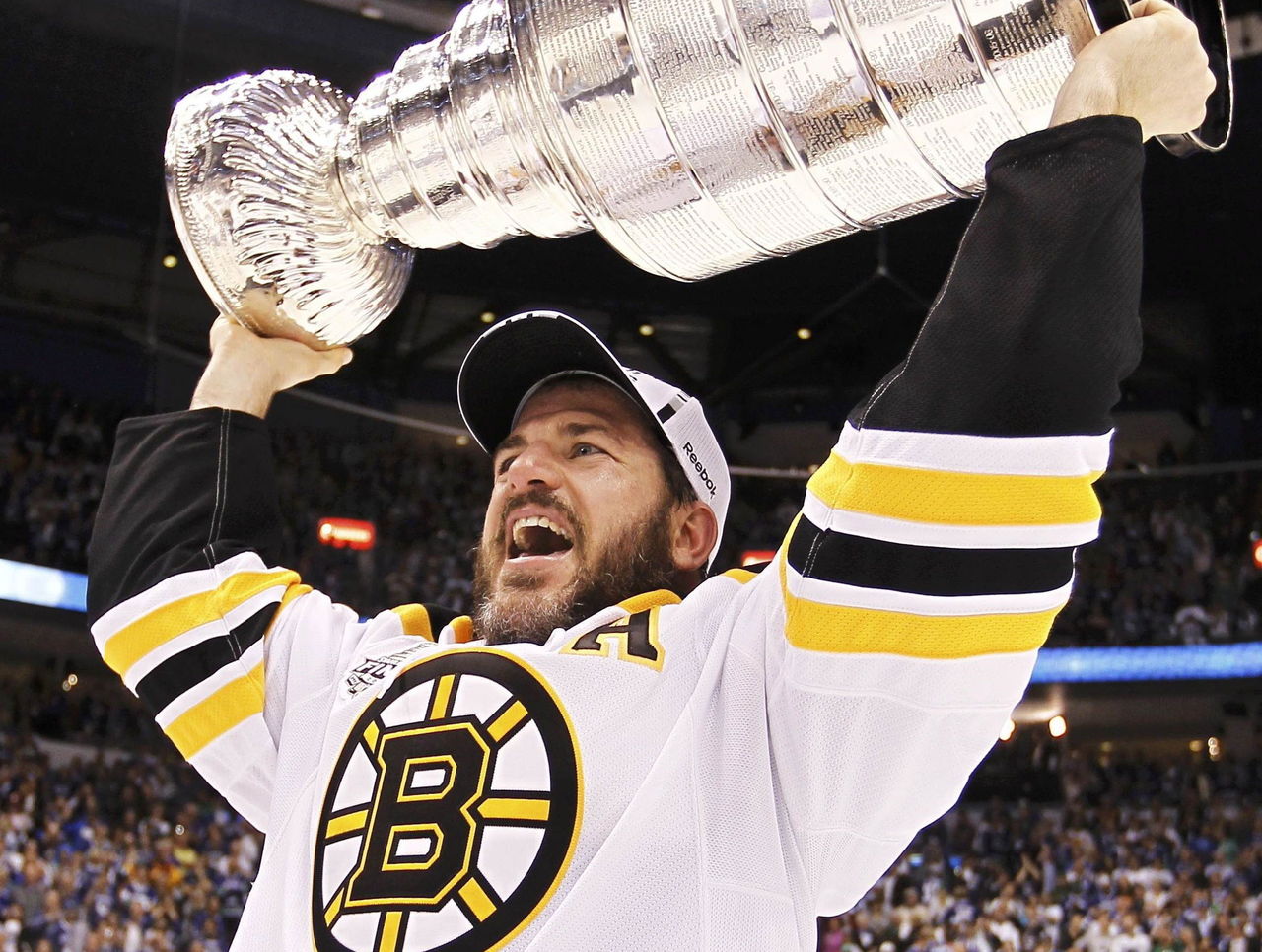 DH: If you could make any hockey wish come through what would it be and why?
Curtis: Honestly I would love to play in a Hockey Legends game, meet some of the guys that built this sport, that played with the grit and heart that sometimes fans say is lacking these days in pro hockey.
DH: Hollywood comes knocking on the door and they want to do a movie about you, who would play you in your hockey story and what movie is most likely to parallel it?
Curtis: I've been told I look like Jason Segel (more so he looks like ME!), and I would say an adult version of the Mighty Ducks would fit fairly accurately, team of misfits coming together to showcase!
DH: You find a genie in your water bottle on the bench and he says, you can play hockey anywhere, absolutely anywhere in the world, where would you go and why?
Curtis: I think New Zealand would be my #1 pick, I've spent a substantial amount of time there, but don't recall if they have any indoor rinks there. I think given their athleticism in rugby, it would be interesting to see how they catch on to hockey. Wouldn't hurt that I would likely look like a much better hockey player than I currently am 😉
DH: Someone is reading your story right now, and they are thinking of taking the program, but are not sure if it is for them, do you have any words of encouragement we can pass on, and what would you say to your former self before you took the program now that you know what it is like?
Curtis: As others have said before me…DO IT!! You won't regret it, there's no embarrassment, everyone is there to learn and help others learn to play, even the distance I traveled to complete the program was worth it (crazy, but worth it!). The experience and atmosphere is just competitive enough to make you work, strive to be as good as some of the more experienced people on your team, but relaxed enough that you can all laugh with each other when you bail hard on a breakaway!
DH: Thank you for sharing your incredible story with our readers Curtis! It is beautiful to see such amazing commitment and passion for the game, it is really inspiring!
If you are reading this and thinking to yourself that it is time for me too to try hockey, registration is open now in Calgary, Edmonton, and Richmond for the Winter programs. Spots are limited though and many programs already have, or will sell out! There is also a special, Christmas gift offer you can find out about more here.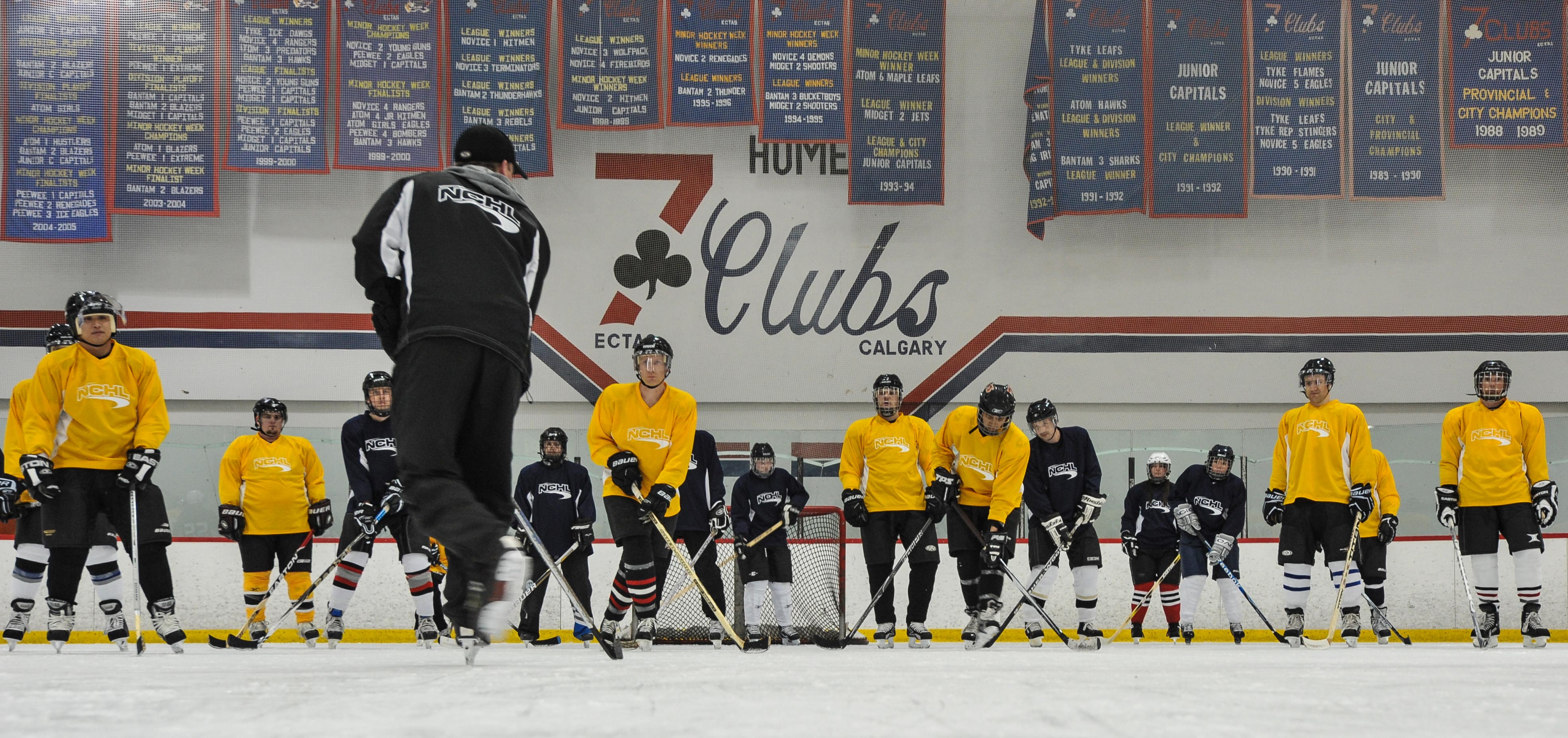 ABOUT:
Discover Hockey is a beginner program for adult men and women who want to learn to skate and play hockey in a safe and fun environment. Learn all the basics of skating and game play without the fear of being judged, form life-changing bonds with your new teammates, and join a league as a team to play hockey in a real season!
Discover Hockey beginner adult hockey classes are currently offered in Calgary, Edmonton and Richmond, BC. If you and your friends want to take the program please visit the schedule pages. Save $50 per person when signing up with 2 or more friends with the Buddy Bonus!
If you think this program should be offered in your area, please contact us.